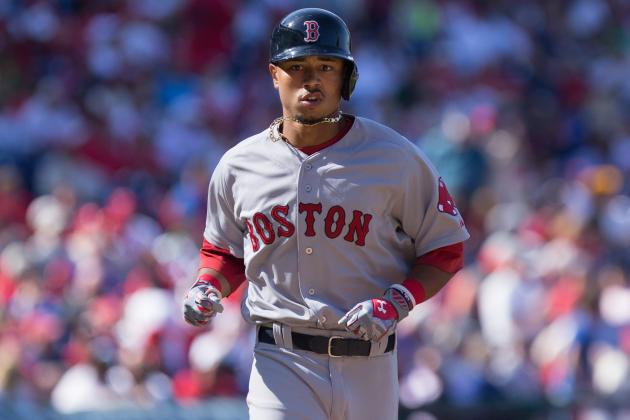 Fantasy Baseball Sleepers
The Red Sox pinned a lot of expectations onto 22-year-old Mookie Betts coming into this season. So far he has shown definite signs of being able to live up to those expectations and his MLB fantasy value is on the rise.
In eight games, Betts has collected nine hits and two of those have left the park. He's also driven in eight runs and swiped three bags, sending his MLB fantasy stock into uncharted territory. He'll need to reach base at higher clip going forward - he sports a .273 OBP so far - but we're still in the very early stages of the 2015 season.
Fantasy owners wishing to evaluate a larger sample size should take a look at Betts' numbers from 52 games last year. In 213 plate appearances, he hit .291 with a .368 OBP. He's already flexing his power and run production muscles at greater rates in 2015 (he had totals of 5 HR and 18 RBI during his time last year), so if his BA and OBP climb back up towards 2014's levels he will be a far more complete fantasy player.
If Mookie has both OF and 2B positional eligibility in your league, that of course only enhances his appeal. It's hard not to feel good about his prospects batting atop a Boston lineup stacked with names like David Ortiz, Hanley Ramirez and Pablo Sandoval. If all goes according to plan, he should end up scoring plenty of runs and be able to show off his speed and athleticism on the base paths often. All considered, Betts should end the season as a top 75 player.
Keep up with fantasy baseball news all season long with ASL!