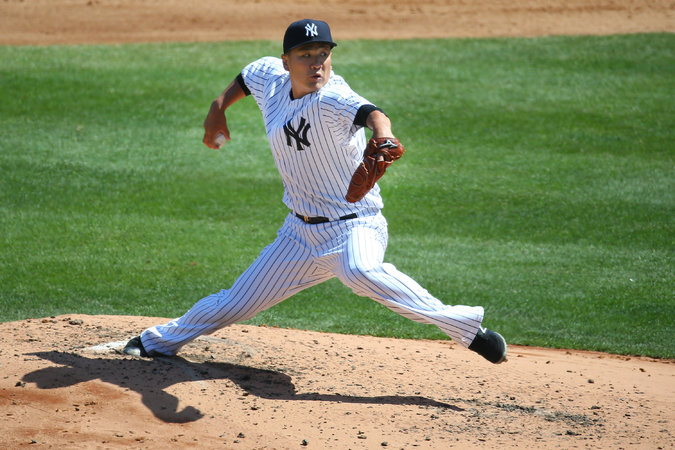 Fantasy Baseball News
Drawing conclusions from one game out of 162 is a misguided exercise at best, but MLB fantasy owners can't help but speculate on a player's MLB Fantasy Value. Opening Day 2015 certainly gave nervous fantasy owners several things to chew on as the new season kicks into gear.
Tanaka Struggles: After an impressive first two innings, it appeared that Masahiro Tanaka was going to coast to the kind of effortless outing he enjoyed many times in 2014. Things fell apart in the third, however, when he surrendered five runs, four of them earned. Tanaka made little use of his fastball, instead relying on off-speed pitches to mixed results. Like last year, he was most effective working the edges of the strike zone with his slider or getting hitters to chase the ball down, evidenced by the six strikeouts he accumulated over his four innings. When he left his fastball elevated, he got hit hard: see Edwin Encarnación's two-run blast. Tanaka owners can take heart in the fact that he made it through the game by all accounts pain-free, a concern that will persist in light of last season's elbow injury. If he can refine his control going forward, his slider showed enough of its signature bite to keep missing plenty of bats this season.
New-Look Cubs Shut Out: The Cubs didn't fare much better on Opening Night than fans searching for a bathroom amid the renovations-in-progress at Wrigley Field. Cardinals pitching, led by Adam Wainwright through six shutout innings, held them to five hits and no runs in a rather uneventful commencement to the 2015 MLB season. Jason Heyward owners hoping a move to St. Louis would see the young outfielder really start to deliver on his potential were likely encouraged by his performance on Sunday night. He went 3-for-5 with two doubles, stole a base, and scored a run in the victory. Batting second in the Cards lineup should give Heyward ample opportunity to have more days like this where he can showcase his multi-faceted talent.
Colon Shines: Just like everyone predicted, Bartolo Colon outdueled Max Scherzer at Nationals Park on Opening Day. The 41-year-old Mets starter gave up three hits and one run in six innings, fanning eight and walking one against a capable Washington lineup. As usual, Colon kept things simple, working fast and throwing his fastball for over 80% of his pitches. While you shouldn't expect this kind of performance to be the norm, pitching-needy MLB fantasy owners might consider picking up Colon as a one of their fantasy baseball sleepers to see if he can go on a little run to start the season. Though he pitched to a 4.09 ERA last year, his FIP was about a half-run lower at 3.57.
Royals Hammer ChiSox: The reigning AL Champs got off on the right foot, routing the White Sox 10-1. Chicago's big offseason pitching acquisition had a debut to forget, as Jeff Samardzija gave up five earned runs in six innings, walking three to just one strikeout. Mike Moustakas (2-for-3, solo home run) and Alex Rios (3-for-4, 3-run home run) led the way in the Royals' offensive outburst. Moustakas has largely underwhelmed at the big league level but this type of game might persuade MLB fantasy owners that the 26-year-old third basemen is poised for a turnaround batting out of the second spot in the Royals lineup. Also worth noting: Moose's homer was the first opposite-field shot of his career.