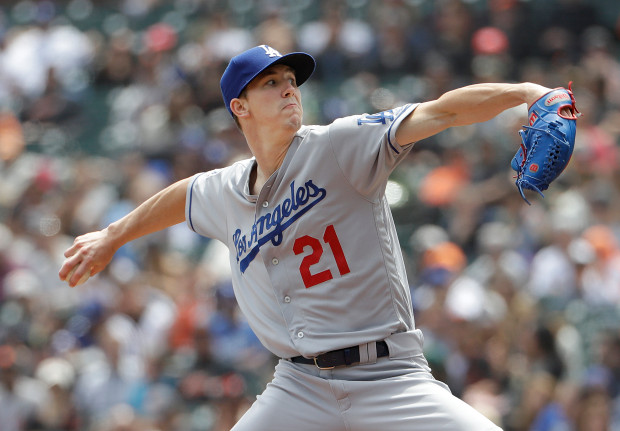 Written by Brian Murphy
31 July 2018
If you're playing MLB DFS contests, you need to be using ASL's The Machine.
For just $4.99, you will receive ASL's most powerful lineup optimizer. No matter if you play at DraftKings, FanDuel or Yahoo, The Machine gives you lineups from three different projection sources -- numberFire, RotoGrinders, Six Pack Fantasy -- as well as a Blend projection lineup that uses all three sources together. The projections are updated frequently throughout the day.
Listed below is a small sample of what you will get with The Machine. As of mid-day Eastern Time, here is a pitcher and a top value hitter from each projection source for each of the three DFS platforms.  


For full lineups, team stacking and more, check out ASL's powerful lineup optimizer, The Machine for Daily Fantasy Sports
DRAFTKINGS
numberFire: SP Walker Buehler, LAD, 19.50 fantasy points for $8,500; OF Giancarlo Stanton, NYY, 12.60 fantasy points for $4,900
RotoGrinders: SP Zack Godley, ARI, 18.38 fantasy points for $7,200; SS Trea Turner, WSH, 9.86 fantasy points for $4,300
Fantasy Six Pack: SP Zack Godley, ARI, 17.98 fantasy points for $7,200; SS Trea Turner, WSH, 9.33 fantasy points for $4,300
FANDUEL
numberFire: SP Walker Buehler, LAD, 36.30 fantasy points for $7,400; OF Brian Goodwin, KC, 11.40 fantasy points for $2,300
RotoGrinders: SP Charlie Morton, HOU, 37.14 fantasy points for $9,600; 1B Ryan Zimmerman, WSH, 11.96 fantasy points for $2,900
Fantasy Six Pack: SP Jack Flaherty, STL, 33.63 fantasy points for $7,700; OF Joey Gallo, TEX, 11.17 fantasy points for $2,600
YAHOO
numberFire: SP Walker Buehler, LAD, 21.10 fantasy points for $43; OF Michael Taylor, WSH, 6.90 fantasy points for $7
RotoGrinders: SP Tyler Skaggs, LAA, 19.46 fantasy points for $45; OF Jon Jay, ARI, 7.44 fantasy points for $7
Fantasy Six Pack: SP Masahiro Tanaka, NYY, 20.58 fantasy points for $46; OF Jon Jay, ARI, 7.62 fantasy points for $7

Never miss ASL's latest fantasy sports news. Send us an email at This email address is being protected from spambots. You need JavaScript enabled to view it. and list the sports you are interested in (NFL, NBA, MLB, NHL, EPL) to start receiving ASL's newsletter.