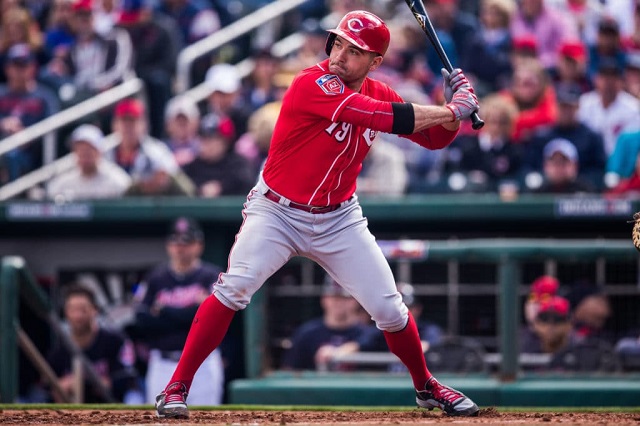 Written by Brian Murphy
21 July 2018
OF Bryce Harper, Washington Nationals
I know, I know. You're sick of hearing about Harper. You know how bad he's been, Home Run Derby aside. You know his batting average is low and blah, blah, blah. And you're right. Still, you should be checking in with the Harper owner in your league to see what they would need to part with the Nationals' slugger. Play up his .215 batting average and disregard that his BABIP is still a ridiculous .229. According to Statcast, Harper's wOBA is currently 42 points lower than expected, and he's been hitting with the type of authority where his batting average should be 25-30 points higher.  His soft-hit rate, per FanGraphs, is at a career low, and he has a 13.3 percent barrel rate, which is among the top 20 in baseball. In other words, he's still stinging the ball hella hard. A big second half is in store for Harper. 
OF Tommy Pham, St. Louis Cardinals
I wonder if the window to buy Pham is starting to close after he came out of the All-Star break with a couple of big games. However, two good performances probably aren't enough to make Pham's owners forget just how dreadful he was from the end of April through June as he put together a .194/.260/.349 slash line. His hard-hit rate is still a very strong 47.4 percent, and it seems likely that Pham is going to counter that brutal spring with a hot summer. It might already be underway, so try to buy ASAP. He should be a top-50 fantasy player in 5x5 leagues the rest of the way.


Thrive Fantasy is like no other Daily Fantasy Sports platform out there. Join for free today!
1B Joey Votto, Cincinnati Reds

It's just weird to see that Votto isn't hitting .300. Not quite as weird but still alarming is the fact that Votto has just nine homers after averaging 31 through the past three years. Is the 34-year-old finally declining? I don't think so. Even after a recent hot streak, he still has plenty of room left before he hits his ceiling. According to Statcast, Votto's expected wOBA (xwOBA) is 53 points higher than his actual wOBA. More to the point, his expected slugging percentage is 115 points lower than Votto's actual .442 slugging. That's the seventh-biggest gap in baseball. Plus, for his career's Votto's second-half OPS is 80 points higher than it is in the first half. There should be a lot of doubles and homers left in Votto's bat. He won't be a sub-100 player in Yahoo standard leagues much longer.
Stats updated through July 20.


Never miss ASL's latest fantasy sports news. Send us an email at This email address is being protected from spambots. You need JavaScript enabled to view it. and list the sports you are interested in (NFL, NBA, MLB, NHL, EPL) to start receiving ASL's newsletter.