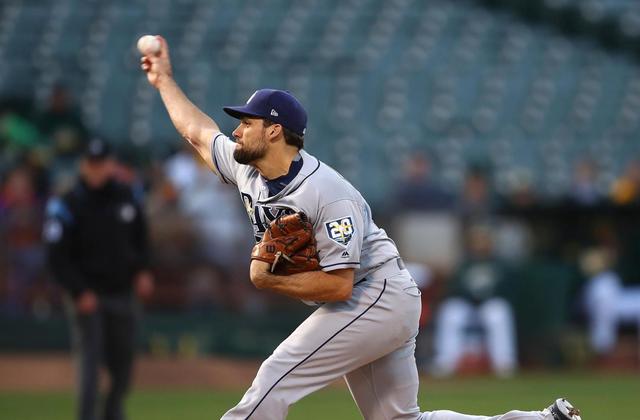 Written by Brian Murphy
12 July 2018
OF Stephen Piscotty, Oakland Athletics
This has not been a normal season for Piscotty, who had to deal with the death of his mother due to ALS in early May. I'm not going to try to quantify the impact that passing had on Piscotty on the field, but he has certainly come out of an extended slump over the past few weeks. Since June 13, Piscotty has put together a slash line of .308/.352/.659 with eight homers in 91 at-bats. He went yard in four consecutive games recently, and hopefully a bruised wrist doesn't cool him down. Fortunately, a bruise is the extent of the injury, so expect Piscotty to continue providing useful power production from the middle of the Athletics' lineup.
2B Niko Goodrum, Detroit Tigers
Do you realize how hot Goodrum has been at the plate this month? He's already collected a couple of four-hit games and is carrying a .413 average in July. It's time to at least kick the tires on him. I'm wary that he might head into the doldrums pretty soon because doesn't walk much and has been buoyed by a ridiculous .545 BABIP. However, if you're looking for a player who can help you out with a few home runs here, a few stolen bases there and who gives you a lot of position flexibility -- Goodrum is eligible in the outfield and at every infield spot minus pitcher and catcher in Yahoo leagues -- he should be heavily considered in deeper formats. 
RP Sergio Romo, Tampa Bay Rays
Here I am, writing about Romo again. Since the beginning of June, he has recorded a 1.37 ERA over 13 appearances. Opponents are hitting just .173 against him. He has saved 10 games and has compiled a 17:4 strikeout-to-walk ratio. Yet, he is still struggling to get over the 50 percent ownership mark. Even if you don't think your team needs saves, consider this: There are current closers who might soon lose their ninth-inning gig after they are traded and moved into a setup role -- Kyle Barraclough, Brad Hand, maybe Blake Treinen or Raisel Iglesias. There will be teams such as the Astros, Phillies or Braves who upgrade the backend of their bullpen at the deadline and move their current fill-in closer into middle relief. Changes at closer are coming. Protect yourself now by picking up Romo, who I think will stick with the Rays and their winning ways through July and August.
SP Nathan Eovaldi, Tampa Bay Rays
Eovaldi starts Friday at Minnesota, which has performed like a top-10 offense this month. Yet, that doesn't really worry me because Eovaldi suddenly looks like an ace. Since his late-May return from Tommy John surgery, Eovaldi has already posted three starts in which he lasted at least six innings and allowed no more than one hit. In his past three outings, he's given up a total of two runs and three walks to go along with 23 strikeouts. His velocity is back -- only Luis Severino and Noah Syndergaard have thrown a harder fastball on average among starters with at least 40 innings pitched -- and Eovaldi is complementing that firm heat with a very valuable cutter. He's available in more than half of all ESPN and Yahoo leagues and is well worth at least a streaming add for Friday. 
SP Anibal Sanchez, Atlanta Braves
I can't believe I'm saying that you should add Anibal Sanchez to your fantasy team in 2018, but it's not crazy. His career appeared to be all but done after a few dreadful years with the Tigers and after he was cut by the Twins in mid-March following an appearance in which he allowed six runs. Now, Sanchez has allowed six runs combined over his past four starts. He owns a 2.72 ERA, a 1.04 WHIP and has K'd 56 in 59.2 frames this season. His resurgence is due in large part to a cutter that he is now throwing about 20 percent of the time and with great effectiveness. It's a big reason why he has the third-best soft contact rate among starters with at least 50 IPs. Tomorrow's matchup versus Arizona doesn't look great on paper, but Sanchez was very respectable in road starts versus the Yankees and Brewers this month, so why not give him a shot? 


You can follow, ask fantasy questions and yell at Brian on Twitter: @Spokes_Murphy
Never miss ASL's latest fantasy sports news. Send us an email at This email address is being protected from spambots. You need JavaScript enabled to view it. and list the sports you are interested in (NFL, NBA, MLB, NHL, EPL) to start receiving ASL's newsletter.