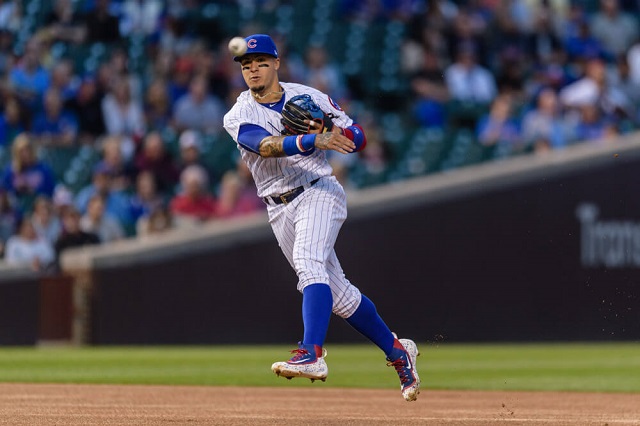 Written by Brian Murphy
07 July 2018
This list is judged by stats in a standard 5x5 fantasy baseball league. Stats updated through July 6.
Catcher: Evan Gattis, Houston Astros
He's the No. 1 catcher on the ESPN player rater and in Yahoo standard leagues. Not that being No. 1 means you get this spot, but Gattis was drafted far after the top tier of catchers and is currently tied for fifth in baseball in RBIs. He's on pace to have a career year, but given his history of streakiness and how hot he has been at the plate since the start of May, you have to imagine a significant second-half swoon is in his future.
Honorary Mention: J.T. Realmuto, Miami Marlins
First Base: Max Muncy, Los Angeles Dodgers
Shoutout to the Brewers' Jesus Aguilar, but Muncy has been a little bit better this season for fantasy leaguers. Neither man started the year with an everyday role. Now, both are All-Star Game candidates. Muncy didn't get much playing time before May, but since the start of the fifth month, he has smashed 18 homers and OPS'ed nearly 1.100. 
Honorary Mention: Jesus Aguilar, Milwaukee Brewers
Second Base: Javier Baez, Chicago Cubs
Quite a few choices here, but Baez has been a five-category contributor pretty much throughout. He's going to go through slumps -- like his 1-for-21 stretch last month -- due to his lack of strike zone discipline. But he has found a way to rebound every time. He is on pace for 30 homers and 28 steals.
Honorary Mention: Ozzie Albies, Atlanta Braves
Shortstop: Francisco Lindor, Cleveland Indians
Yeah, he was an early fantasy pick, but this player has been so good, he deserves this honor. He paces the game in runs and is on track to easily surpass his previous career-highs in the main four counting categories. He's the No. 2 overall player in Yahoo! 5x5 formats.
Honorary Mention: Jean Segura, Seattle Mariners

Third Base: Jose Ramirez, Cleveland Indians
And here is the No. 3 overall player. I said during the preseason to not expect a 2017 repeat from Ramirez. I guess I was right, because he's been clearly better in 2018. A 40-HR, 30-SB campaign is within range.
Honorary Mention: Eugenio Suarez, Cincinnati Reds
Outfield: J.D. Martinez, Boston Red Sox; Eddie Rosario, Minnesota Twins; Nick Markakis; Atlanta Braves
Regarding Martinez, see the first sentence on Lindor.
I could have listed players such as MLB MVP candidates Mike Trout or Mookie Betts here, but there have been other players drafted much later who have already given their owners quite a profit. Rosario has followed up his 2017 breakout year by taking a step forward and is now a top-five outfielder in standard leagues.
Meanwhile, Markakis has turned back the clock, providing the type of production we haven't seen from him in about a decade. A fantasy afterthought this spring, the former Oriole is on pace to post a 98-18-108-2-.324 line.
Honorable Mentions: Mitch Haniger, Seattle Mariners; Matt Kemp, Los Angeles Dodgers; Michael Brantley, Cleveland Indians
Starting Pitching: Blake Snell, Tampa Bay Rays; Charlie Morton, Houston Astros; Trevor Bauer, Cleveland Indians; Gerrit Cole, Houston Astros; Mike Foltynewicz, Atlanta Braves
At least most of the preseason studs at this position have held their own this season. But if you missed out on Max Scherzer, Luis Severino, Chris Sale, etc., and waited to build your staff, these five arms would have been quite the way to go. Three of them -- Snell, Morton and Folty -- were available well past pick No. 150 in many leagues.
Honorable Mentions: Miles Mikolas, St. Louis Cardinals; Patrick Corbin, Arizona Diamondbacks; Rick Porcello, Boston Red Sox
Relief Pitching: Edwin Diaz, Seattle Mariners
Sean Doolittle has better ratios, but Diaz's 2.35 ERA and 0.83 WHIP still ain't too shabby. Plus, he has struck out close to 15 batters per nine and is on pace to save more than 60 games. That's just insane.
Honorable Mention: Sean Doolittle, Washington Nationals
You can follow, ask fantasy questions and yell at Brian on Twitter: @Spokes_Murphy
Never miss ASL's latest fantasy sports news. Send us an email at This email address is being protected from spambots. You need JavaScript enabled to view it. and list the sports you are interested in (NFL, NBA, MLB, NHL, EPL) to start receiving ASL's newsletter.