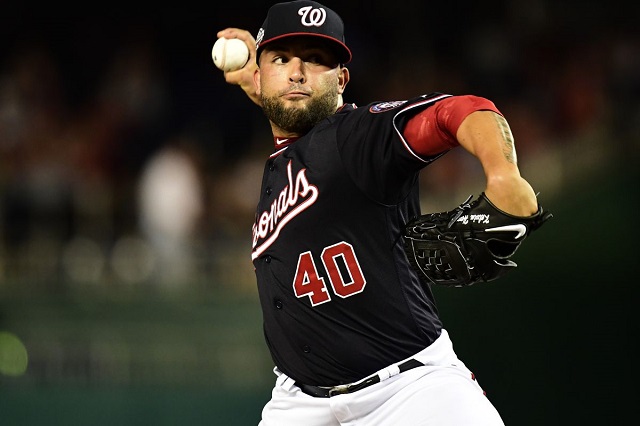 Written by Brian Murphy
21 June 2018
Chicago Cubs
Brandon Morrow was put on the disabled list Wednesday after injuring his back while taking off his pants. That's what actually happened. His back spasms shouldn't keep him out for longer than the necessary 10 days. Pedro Strop will probably get the first crack at saves in his absence, but also keep Steve Cishek in mind. Both men have pitched well enough this season to deserve a shot and both have closing experience. Strop is widely available across all fantasy platforms.
San Francisco Giants
When will players learn that picking a fight with a door or a wall is a losing battle? Hunter Strickland is the latest pitcher to find this out as he broke his pitching hand after punching a door in frustration following a blown save Monday. Sam Dyson was named the team's replacement closer Tuesday. He picked up a two-out save that evening, but on Wednesday, he looked a lot like the Sam Dyson who got shipped out of Texas last year. He allowed four hits and two runs while trying to protect a three-run lead. He was pulled with two outs in the ninth, and the save ended up going to Reyes Moronta.
Fantasy owners in need of saves will have to take a chance here since Strickland is expected to be sidelined for up to two months. Dyson is the man to own right now, but be ready to pivot because, as I said, it wasn't long ago when we saw him blow up consistently in the ninth. Lefty Tony Watson will be in the mix, and I think Mark Melancon, even with his diminished velocity, will get a shot as well. His results have been decent since making his 2018 debut on June 1. Injuries have ruined his tenure with the Giants, but if you can stash him or acquire him in a low-cost trade, that's an avenue worth exploring.
Houston Astros
I'm not sure why Hector Rondon is still available in half or more of all fantasy leagues out there. Yes, he took an L in a non-save situation Tuesday, and the likes of Ken Giles and Chris Devenski are still lurking. But for now, Rondon is the closer du jour on the team with the most wins in baseball. He has locked down his last four save opportunities with little ado. Fantasy owners should have more confidence in him right now.
Miami Marlins
Why is Kyle Barraclough still available in about half of all leagues, too? He has been pitching like an All-Star all season long and especially since becoming the Marlins' closer earlier this month. Barraclough hasn't allowed a hit since May 22, a span of 10.2 innings. During that time, he's given up an equal amount of runs and struck out eight. The Fish don't win often, but Barraclough has picked up four saves in the past 10 days. With all of the topsy-turvy bullpens out there, owning a closer with some pretty firm job security right now feels like a luxury. He should be owned in all leagues.
Kansas City Royals
Here's another question: Who's the closer in Kansas City? We know it's not Kelvin Herrera any longer. His fantasy value has been relegated to holds leagues now that he is a setup man in Washington. There are no easy answers for the Royals, who own the worst bullpen ERA in the American League. Kevin McCarthy posted a scoreless ninth on Wednesday in a game Kansas City trailed. He has struck out just 19 men in 31.1 innings, but as the only man in this pen with a sub-4.00 ERA, he's worth a speculative add in deep leagues for the adventurous fantasy owner.
Toronto Blue Jays
Despite my pleas for Seunghwan Oh, the Blue Jays have pretty much trusted Ryan Tepera to be their closer while Roberto Osuna is on administrative leave. It hasn't always been a smooth ride, but Tepera is 5-for-5 in save chances. Yet, he is still available in 60-70 percent of Yahoo and CBS Sports leagues.
Baltimore Orioles
Zach Britton is back, but he hasn't been given a save opportunity yet. It doesn't help when your team has lost 10 of 12 games and is terrible overall, obviously. Britton could have gotten a save Wednesday night, but he was removed in the ninth inning of a 3-0 game after pitching 1.1 innings of pretty clean ball. Brad Brach promptly loaded the bases before striking out Mark Reynolds to end it. Brach has allowed 14 baserunners in his last 5.1 frames while Britton has been almost pristine since a shaky, three-walk debut on June 12. Britton is still on the wire in about 35 percent of Yahoo and CBS Sports leagues and in more than 50 percent of ESPN leagues. Much like with the Marlins, the Orioles are putrid, but it's time to own their closer. That should be Britton from here on out (or until he's traded to be a better team).
Los Angeles Angels
Heavens to Betsy, Mike Scioscia may have settled upon a closer. This, of course, could change in the blink of an eye, but Blake Parker has registered five saves since June 4. Granted, he blew a save last week, struggled Sunday in a loss and has permitted five earned runs in his last three appearances. But if you're desperate ... I mean, really desperate ...
You can follow, ask fantasy questions and yell at Brian on Twitter: @Spokes_Murphy
Never miss ASL's latest fantasy sports news. Send us an email at This email address is being protected from spambots. You need JavaScript enabled to view it. and list the sports you are interested in (NFL, NBA, MLB, NHL, EPL) to start receiving ASL's newsletter.