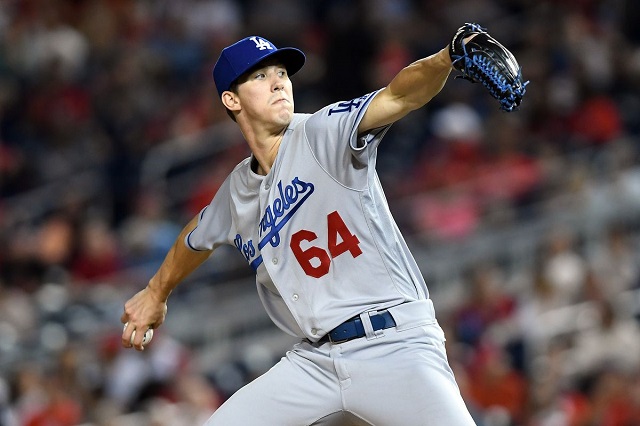 Written by Brian Murphy
03 May 2018
SP Sean Newcomb, Atlanta Braves
Just throw strikes, and your stuff will do the rest. That should be Newcomb's mantra. The former top-50 prospect has always been good at missing bats, but for most of his career, he's also been too good at missing the strike zone. He had a per-nine walk rate of 4.9 in the minors, a number which went up to 5.13 during his 2017 rookie season. Newcomb's current 3.89 walk rate isn't spectacular, but it's a big step forward for Newcomb, whose strikeout numbers remain strong. His 18.6 percent strikeout-minus-walk rate is among the top 30 of all qualified starters. After six outings this year, which include visits to Wrigley Field, Coors Field and a pair of meet-ups with the Mets, Newcomb has a 3.38 ERA and a 3.16 FIP. 
SP Walker Buehler, Los Angeles Dodgers
One of the best pitching prospects in the sport, Buehler is already backing up the lofty expectations for him. Small sample size, yes, but through 10 innings, he has given up two runs and has struck out 11. He's got a big fastball with sink and mixes it up with a slider and a curveball. Buehler will be showcasing his electric repertoire next on Friday against the Padres, who have the third-lowest OPS in baseball. Definitely fire up Buehler to start the weekend, and with Hyun-jin Ryu now injured, the rookie's stay in the rotation could be an extended one.   
SP Ivan Nova, Pittsburgh Pirates
Even after his forgettable night versus the Nationals on Wednesday, Nova is still a pitcher who should be owned in more leagues. Consider that even after he allowed five earned runs and 13 baserunners in 4.2 innings yesterday, Nova's 3.91 FIP, 3.63 xFIP and 1.22 WHIP are still very respectable. You know what you're going to get with him: Minimal walks, a useful amount of strikeouts, a lot of ground balls and, when he's not getting ground balls, a near-unsightly amount of homers allowed. He's still out there in about 60 percent of ESPN and Yahoo leagues, but that number should go up before his next start, a Tuesday showdown against the lowly White Sox.
SP Tyler Skaggs, Los Angeles Angels
Skaggs has not had an easy go of it recently as his last three starts have come against the Red Sox, Astros and Yankees. He was knocked around by Boston, but in those other two most recent outings, he allowed just two runs over 12.2 innings. He also struck out 11 and compiled a WHIP of 0.81. On the year, his ERA sits at 3.03 while his WHIP is at 1.16. Skaggs should continue to put up solid numbers in his next three starts, scheduled to come against the Mariners, Twins and Rays, respectively. Skaggs is available in about 55-60 percent of Yahoo and ESPN leagues. 
RPs Darren O'Day, Baltimore Orioles; Kyle Barraclough, Miami Marlins
If you're hunting for saves, well, the pickings are pretty slim on the wire right now, but here are a couple of options on maligned teams. The Orioles haven't found a true ninth-inning replacement for the injured Zach Britton. Of course, they haven't really needed one with only eight wins on the year. But Britton is going to be out for at least another month, so who would the O's turn to if they are in need of saving? O'Day looks like that guy right now. The submariner has struck out 15 in 11.2 innings and possesses a 3.86 ERA and 1.02 WHIP. More importantly, he picked up a clean save Sunday against the Tigers. He's worth a look as is Barraclough.
I don't know why Miami keeps living with Brad Ziegler getting those chances because he has been pretty awful all year long. Meanwhile, Barraclough, a big K pitcher, has racked up 22 strikeouts in 12.2 innings. That's helped keep his ERA down to 2.13. He actually did get a save last week, but the Marlins turned back to Ziegler in the ninth the next day. Again, there isn't much help out there for those in need of saves, but I have to imagine that the Marlins will give Barraclough a steady opportunity to close. He is clearly better than Ziegler.
Honorable mention goes to the White Sox closer Joakim Soria, who is still available in a majority of leagues. But O'Day and Barraclough are free in many more formats.


You can follow, ask fantasy questions and yell at Brian on Twitter: @Spokes_Murphy
Never miss ASL's latest fantasy sports news. Send us an email at This email address is being protected from spambots. You need JavaScript enabled to view it. and list the sports you are interested in (NFL, NBA, MLB, NHL, EPL) to start receiving ASL's newsletter.