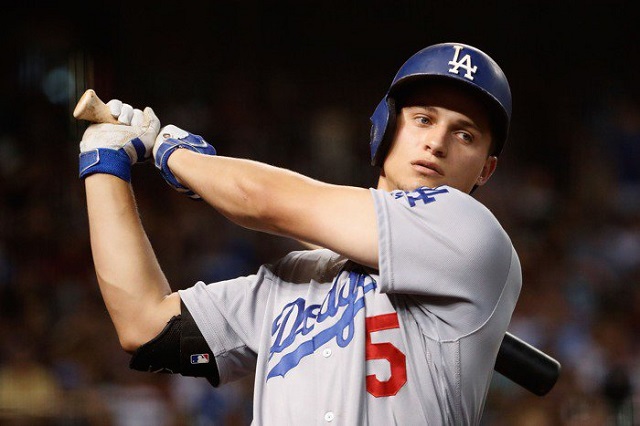 Written by Brian Murphy
01 May 2018
SS Eduardo Escobar, Minnesota Twins (replacing Corey Seager)
Seager's underwhelming 2018 season can to a very premature end Monday when it was announced that he needs season-ending Tommy John Surgery. Escobar could actually provide you with a reasonable facsimile of the production you were expecting from Kyle's younger brother. He hit 21 homers in 129 games last year and has knocked balls out of the park already. Given his increases in live drives and hard contact, it looks like Escobar is going to get past 20 homers again, and he'll drive in at least 80 runs for as long as he keeps his spot in the middle of the Twins' lineup. His lack of patience probably means he won't sustain his current .301 average, but 20-plus HRs and a .275 average from a replacement shortstop is pretty nice, no. Escobar is still available in 65 percent of Yahoo leagues and more than half of CBS leagues.
2B Jose Peraza, Cincinnati Reds (replacing D.J. LeMahieu)
LeMahieu has been one of the best second basemen in fantasy thus far, but he'll be out for some period of time due to a hamstring strain. I don't see great long-term options to add in the majority of leagues at second base, but as long as Peraza is hitting in front of Joey Votto, he's going to see lots of pitches to hit. And most recently, he's been hitting 'em and hitting 'em and hitting 'em well. He's gone 15-for-40 with eight runs scored in his last eight games. Peraza doesn't offer much pop at all, but he'll provide a good batting average, a useful amount of runs and should steal 25 bases. 
3B Jeimer Candelario, Detroit Tigers (replacing Miguel Sano)
You'll need someone to fill in for Sano while his hamstring ailment heals, so how about the man who ranks seventh in Fangraphs' offensive WAR among third basemen? Over his past 15 games, the Candy Man has swatted four homers and compiled an 1.125 OPS. He already looks very comfortable in the No. 2 spot in the Tigers' lineup, and his 17 runs are tied for the sixth-most among those who man the hot corner. With a fine walk rate and modest K rate, Candelario will continue to score runs while approaching 20 homers and batting around .280.
SP Jarlin Garcia, Miami Marlins (replacing Robbie Ray)
You can start replacing Ray tonight as Garcia is scheduled to get the ball versus the Phillies. Ray has a Grade 2 oblique strain, so he's probably looking at a month-long absence or more. Garcia has benefited from quite a bit of luck -- 99 percent LOB rate, .121 BABIP -- but I feel like more fantasy owners must give him a shot to see how long he can continue to ride high. Despite his 1.00 ERA and 0.81 WHIP, Garcia is still out there in more than half of ESPN and Yahoo leagues. If you want a pitcher with a higher long-term floor but a lower ceiling, the Yankees' CC Sabathia fits perfectly.


You can follow, ask fantasy questions and yell at Brian on Twitter: @Spokes_Murphy
Never miss ASL's latest fantasy sports news. Send us an email at This email address is being protected from spambots. You need JavaScript enabled to view it. and list the sports you are interested in (NFL, NBA, MLB, NHL, EPL) to start receiving ASL's newsletter.