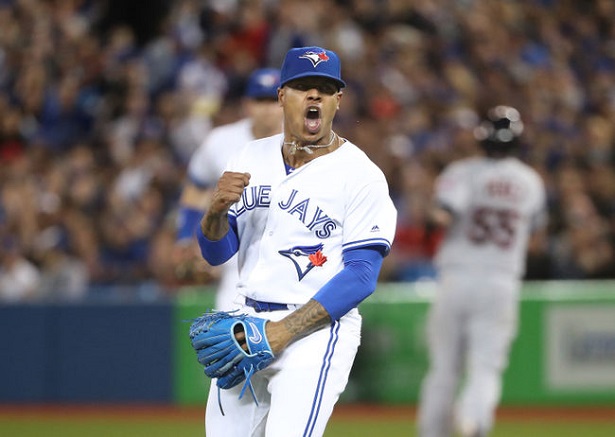 Written by Brian Murphy
06 March 2018
Mike Clevinger to open season in Indians' rotation
Danny Salazar was limited by right arm injuries in 2016 and 2017 and he'll begin 2018 on the shelf as he gets over his latest ailment, right rotator cuff inflammation, which was discovered in January. As a result, Clevinger will take his place in the starting rotation, manager Terry Francona announced Monday.
Fantasy take: Salazar will always be someone worth tracking in your league because he does have dynamite stuff -- although he commonly doesn't know where it's going. Clevinger, who can be had after pick No. 200 in most drafts right now, should see a significant bump with this news. He's kind of like a poor man's Salazar in that he walks too many people but he also struck out more than 10 batters per nine last season. He's got a legitimate four-pitch mix. If he can cut his walks down, Clevinger could be a draft steal and perhaps prove that he should stay on as a starter when Salazar is ready to return.
Cardinals SS Paul DeJong signs six-year contract
The 24-year-old's deal could be worth up to $50 million if his options in 2024 and 2025 are picked up. DeJong hit 25 homers and compiled an .857 OPS over 108 games as a rookie last season.
Fantasy take: We don't really care about the money or the years; we care about the stats. Certainly, the Cardinals believe in DeJong and although I think he's more of a .260 hitter than a .280 hitter, getting 20-plus homers from a shortstop whom you can draft in the double-digit rounds is pretty nice. And I do think his power will sustain. ... As if the shortstop position wasn't deep enough already.
Nationals OF Adam Eaton not close to playing in spring training
Eaton is 10 months removed from tearing his left ACL but is still not close to playing in a game, according to manager Dave Martinez. The hope remains that he will be in the Nats' lineup come Opening Day.
Fantasy take: I don't know about you, but I like this news. Not for Eaton specifically, but for his fantasy stock. He is coming off of draft boards between Rounds 10-12, so I'll take any extra value that comes from an ADP decline due to this news. Because I really like Eaton this season. Maybe he doesn't steal more than 20 bases, but given his track record, I think he'll remain a .285ish hitter with a very good on-base percentage, some pop and the ability to score a ton of runs atop one of the game's best offenses. He gave us a glimpse of what he could do in Washington last April. Even if it comes with a dash of regression and maybe some missed time this April, I'll gladly take five-plus months of Eaton in this lineup in the 12th round.
Blue Jays SP Marcus Stroman not ready to throw
Stroman is currently shut down after being diagnosed with right shoulder inflammation last week. Although the issue isn't considered serious, Stroman won't be throwing for at least a few more days.
Fantasy take: And being ready for Opening Day is almost out of the question at this point. Stroman isn't going to cost you much -- he's barely a top-35 starter on average in drafts -- but any pitcher with a shoulder injury deserves quite a bit of caution. I know this might sound hypocritical considering what I said about drafting Eaton, but the shoulder injury is keeping me away from Stroman. Since we probably won't see him pitch until April, it's impossible to know if this is just a bump in the road or the sign of something more ominous lying underneath the surface. Sorry, but unless Stroman takes a huge tumble down the board, I'll spend my money and picks on pitchers who currently have healthy shoulders. 
You can follow, ask fantasy questions and yell at Brian on Twitter: @Spokes_Murphy
Never miss ASL's latest fantasy sports news. Send us an email at This email address is being protected from spambots. You need JavaScript enabled to view it. and list the sports you are interested in (NFL, NBA, MLB, NHL, EPL) to start receiving ASL's newsletter.