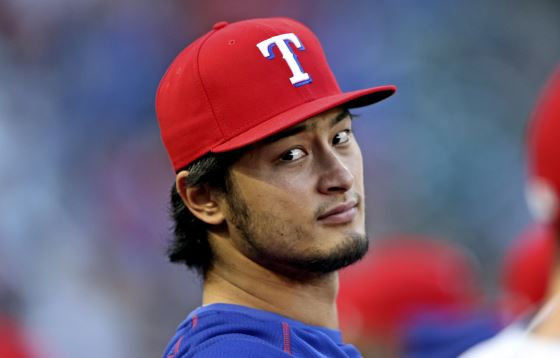 Written by Brian Murphy
03 August 2017
I know what the title says -- I wrote it. I'm going to cheat a little bit for the sake of this article. It would be an extremely short piece if I covered only the players who were dealt on July 31, so let's move our scope back to July 28 and go through what has occurred over the past full week.
STOCK UP
Yu Darvish, SP, Los Angeles Dodgers
I'm not sure there was one player traded within the past week whose fantasy stock absolutely skyrocketed (note: please don't stop reading!). But if I had to pick one guy, it's Darvish. He loses the challenge of facing the designated hitter and gains the benefit of facing the opposing pitcher. He's already proven he can strike out more than 10 batters per nine in the AL; what could he do in the NL? The Rangers have played in a hitters haven for years while Dodger Stadium has almost always been pitcher-friendly. In terms of run scoring this season, Dodger Stadium has been average, but it's still more favorable than Globe Life Park. Lastly and most obvious, Darvish stands to rack up wins more often as part of the team that has a legitimate shot of breaking the all-time regular season wins record. As long as he deals with the transition to the National League smoothly, Darvish should really reward his fantasy owners with some great outings over the season's final two months.
Sonny Gray, SP, New York Yankees
Like Darvish, Gray should win more games on his new team thanks to an upgrade in offense. That upgrade is more pronounced with Sonny as the Yankees rank fourth in the league in runs while the Athletics place 22nd. One concern is that Yankee Stadium has had MLB's greatest home run park factor two years running. However, Gray should be able to mitigate the possible damage there with his heavy ground ball tendencies. Among starters who have thrown at least 90 innings this season, Gray's 56.7 ground ball rate is sixth-best in baseball. Furthermore, his 28.4 hard contact rate is among the game's 15 lowest such percentages. Having a much stronger defense behind him sure helps too.
Much of the same applies to the other starting pitcher the Yankees picked up recently, Jaime Garcia (he relies on grounders as well), but he remains a back-end fantasy option.
Jonathan Lucroy, C, Colorado Rockies
The boost here is slight but still significant. Yes, Lucroy has been awful this year; he entered Wednesday with a .242-.297-.338 slash line. He's been a replacement-level bat in 2017. But you have to increase any hitter's production expectations once they move into Coors Field. It's still the best run-scoring environment in baseball. Perhaps a trip back to the National League, where Lucroy was twice an All-Star in the past three years, will get him going again.
Shane Greene, RP, Detroit Tigers
The Tigers wasted no time in making Greene their closer once Justin Wilson was dealt to the Cubs late Sunday night. Greene has already notched two saves this week, both in New York against the Yankees and threw 2.2 hitless frames to do so. While other clubs that sent away their closer are still looking for a steady replacement, Greene is locked into the ninth inning right now for Detroit. He needs to be added in all leagues.
Dominic Smith, 1B, New York Mets
Lucas Duda going from the Mets to the Tampa Bay Rays doesn't really move the needle for his fantasy value. What his departure does accomplish, however, is freeing up a spot for Smith, a midseason top-50 prospect who was slashing .340-.395-.537 with 16 homers and 73 RBIs at Triple-A as of Wednesday. He's ready for his promotion and the Mets' brass recently said it's coming sometime this month. At the very least, have this kid on your watch list, even in redraft leagues. He may be starter-worthy for you in September.
Hector Neris, RP, Philadelphia Phillies
The Phillies aren't winning many games, but the odds seem high that when they have a tight lead in the ninth, Neris will get the call. With Pat Neshek (Colorado Rockies) and Joaquin Benoit (Pittsburgh Pirates) now out of town, there is little competition for Neris, who carries 10 saves and a 3.12 ERA this year. 
STOCK DOWN
Justin Wilson, RP, Chicago Cubs; Addison Reed, RP, Boston Red Sox; Brandon Kintzler, RP, Washington Nationals
Hey, if your league counts holds, these three aren't totally worthless to you. But saves are the money stat for relievers in most fantasy formats, and these guys all lost their ninth-inning gig before the deadline expired. Kintzler may factor into the Nationals' apparent closer-by-committee strategy, but it's anyone's guess as to who will be asked to get the final outs on a given night. Wilson and Reed, now setting up Wade Davis and Craig Kimbrel respectively, are stuck as opening acts barring an injury or suspension, etc. to the bullpen headliner.
Otherwise, I don't see many other fantasy-relevant players who saw their value take a big tumble this week. Were you really relying on Jeremy Hellickson? Francisco Liriano? Howie Kendrick?!? The Royals re-acquiring Melky Cabrera is a lateral move for fantasy. He hit over .300 with Kansas City back in 2011 if that means anything. It most likely doesn't.
You can follow, ask fantasy questions and yell at Brian on Twitter: @Spokes_Murphy