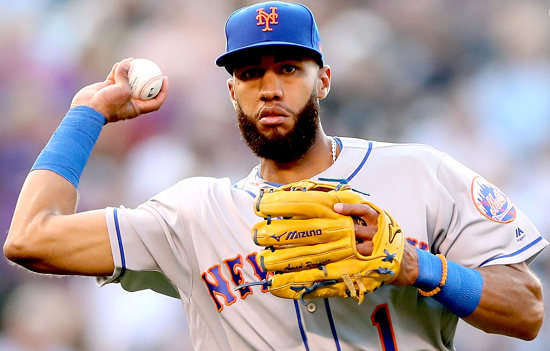 Written by John Adams
02 August 2017
1) SS, Amed Rosario, New York Mets
After terrorizing opposing pitching in the minor leagues this season, Rosario, is finally getting his shot in the big leagues. The shortstop position doesn't offer much pop for fantasy owners, but Rosario is the exception to that rule. He's got decent power and swiped 19 bases in the minors to go along with 57 RBIs. Rosario made his major league debut Tuesday, and Mets manager Terry Collins said the 21-year-old will be the team's shortstop going forward. Rosario might take a while to find his footing in the Mets' lineup, but he is totally worth the wait at a position that doesn't have much to offer fantasy owners.
2) OF, Michael Taylor, Washington Nationals
Taylor is beginning a minor league rehab assignment after suffering an oblique injury. Taylor should be back in action for the Nats within a week or so. If he's truly recovered, he's a fantasy asset who provides power and speed around the bases. Taylor was on a tear when he got hurt at the beginning of July, having already hammered 12 home runs and stolen 10 bases. If he can return to the way he was playing at the beginning of July, this guy could be fantasy gold.
3) OF, Manuel Margot, San Diego Padres
Sometimes it makes sense to ride the hot hand when your fantasy team gets dragged down by the heat of the summer. This rookie may be just what the doctor ordered to help get you through the month of August. Margot just came back from paternity leave and it appears that fatherhood really agrees with the 22-year-old. In just his last 10 contests, Margot has been on fire, racking up six multi-hit games, three home runs and seven RBIs. Pretty good for player who was not expected to bring any power to the diamond. And, oh yeah, Margot already has 11 steals on the season, so he really can contribute in a variety of categories for your fantasy roster.