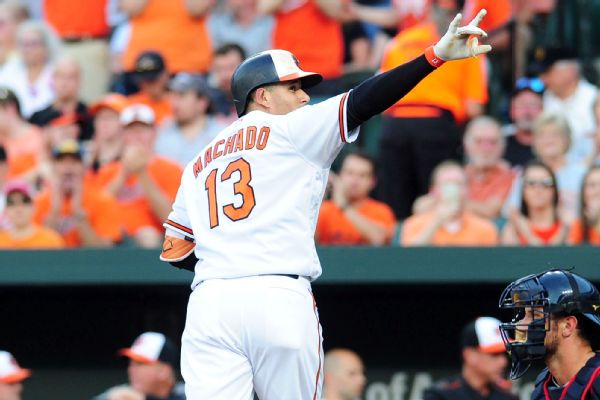 Written by Brian Murphy
27 July 2017
BUY
Manny Machado, 3B, Baltimore Orioles
Machado has been scorching hot lately, hitting .371 with 12 RBIs in 16 games since July 7. However, his overall production still leaves a lot to be desired. He clocks in with a .241 average, an on-base percentage hovering around .300 and a slugging percentage south of .750. On the bright side, Machado owns the eighth-highest average exit velocity (92.3 mph) and his hard-hit percentage of 41.3 ranks among the top 20. He also leads baseball, as he has for a while, in number of balls with an exit velocity of 100 mph or greater (112). Aaron Judge (102), Marcell Ozuna (101) and Nelson Cruz (101) trail directly behind him in that category, but while they each have a weighted runs created plus (wRC+) better than 130, Machado is sitting with a wRC+ of just 94. That's slightly below average. Machado has turned in a below-average line thus far, but he's making great contact; he's just hitting the ball right at people. Have faith that the baseball gods will send more fortune his way over the season's final two months.
Lance McCullers, SP, Houston Astros
You should know that while McCullers can be dominant, he usually doesn't last very long. He's made it through seven innings just thrice in 18 starts this season. You should also know that he comes with injury concerns. He was on the disabled list last month with lower back discomfort and in five starts since returning on June 24, he has been tagged with a 7.13 ERA and a 1.79 WHIP. Still, this looks like simply a bad stretch more than injury foreshadowing. McCullers' velocity is fine. He's still striking out more than a batter per inning. He leads all qualified starters with a 63.2 ground ball rate. His FIP (2.85) and xFIP (2.92) remain among the game's best. His strand rate is a low 69.6 percent. McCullers' value is easily at its lowest point of the season and you need to see if any of his owners are panicking.
SELL
Tommy Pham, OF, St. Louis Cardinals
Yo, Pham. Despite not debuting this season until May 5, this 29-year-old is No. 32 on the ESPN Player Rater. His probable lack of name recognition among common baseball fans will make a deal a little tougher to seal. But you've got to try because Pham has been incredible. He has 14 homers, 44 RBIs and a .312 average in just 72 games. And over the past 30 days, only Jose Altuve is higher on the Player Rater. I can't call it a fluke because it's been going on for almost three months now, but it sure seems unsustainable to a point. Pham's BABIP is above .380. His career slash line across all levels of pro ball in 12 years is .257-.344-.423. Now, with a little more than 200 MLB games under his belt, he is in the midst of slashing .312-.401-.534. Again, it's been a fantastic season and an otherworldly month for Pham at the plate. Can he really keep this up? Try to convince one of your competitors that he can. 
Ervin Santana, SP, Minnesota Twins
On Wednesday night, Santana faced perhaps the most daunting task for any pitcher this season: Going up against the Dodgers in Los Angeles. He acquitted himself rather well, giving up four earned runs, seven hits and no walks over 6.2 innings. He also struck out seven in the no-decision. Try to sell this relatively encouraging performance in trade talks because it's time to move on from Santana while you can. He has compiled a 5.17 ERA over his last five outings. His overall ERA is still a serviceable 3.37, but if you look at the numbers below the surface, you will see a bevy of red flags. Santana entered this most recent start with a league-low .224 BABIP and a very high 83.3 strand rate. Also, his FIP and xFIP are way above his ERA, near 5.00. Santana is due for some pretty rough regression. Recoup whatever value possible and get out now.