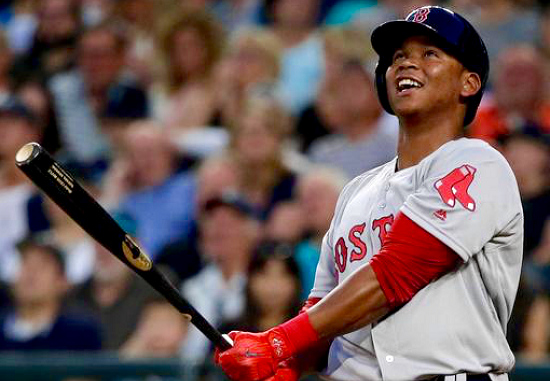 Written by John Adams
27 July 2017
1) 3B, Rafael Devers, Boston Red Sox
For the first time, younger hitters are actually hitting better in the majors than they did in the minor leagues. If that pattern holds true for Red Sox rookie Rafael Devers, fantasy owners should be in for a real treat. This 20-year-old third basemen was one of the best power hitters in minor league baseball racking up 20 homers and 20 doubles. He wasted no time announcing his presence with authority in the majors when he crushed his first home run in just his fifth at bat for his first major league hit. Devers has also already collected two walks, which shows he is patient and willing to wait for the right pitch. It's possible that Boston could send Devers back to the minors, but it makes little sense to put that kind of power on hold for any longer.
2) 2B, 3B, OF, Cory Spangenberg, San Diego Padres
If past seasons are any indication, San Diego infielder Cory Spangenberg always seems to start off slow and catch fire during the second half of the season. That has certainly been the case since the All-Star break for Spangenberg who is batting .290 during the month of July and .357 during his last seven games. He has also hit safely in nine of his last ten games racking up 14 hits and 10 RBIs. Spangenberg comes up a little bit short in the power department, but he scores runs and can definitely plug a hole for you in the infield.
3) OF, Hunter Renfroe, San Diego Padres
Since coming off the 10-Day Disabled List with a strained neck, Padres slugger Hunter Renfroe has been a man on a mission smacking 4 home runs in his last seven games to go along with five RBIs. There is no question that his 36 percent strike out rate is very unpleasant to deal with, but there's no questioning his power. Renfroe got off to a very slow start this season, but now has 20 homers with 44 RBIs. His dismal .232 batting average is trending upwards in July, but he still has a long way to go.