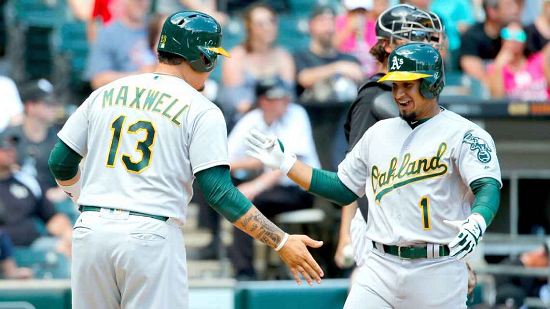 Written by John Adams
29 June 2017
1) 2B/SS, Franklin Barreto, Oakland A's
"Get 'em while he's hot!" That's my advice for the A's 21-year-old top rookie prospect Franklin Barreto. It was only a matter of time before Oakland called him up, but he homered during his major league debut and has collected four hits in his first three starts. Barreto was called up from Triple-A Nashville a little sooner than anticipated after A-'s shortstop Chad Pinder landed on the disabled list with a leg injury. But don't worry, since Oakland was about to call him up anyway, Barreto should have a starting spot nailed down for the rest of the season, whether it's at shortstop or second base. The one drawback with Barreto is strikeouts, but fantasy owners need to respect the process.
2) 1B, Matt Adams, Atlanta Braves
There's nothing like a change of scenery to make all your prospects look brighter. Since being traded to Atlanta from the Cardinals, Matt Adams has been balling. During just the month of June, Adams is hitting .320 with TEN home runs and has hit safely in 8 of his last ten games. As a matter of fact, the 28-year-old first baseman is hitting so well, Braves superstar Freddie Freeman is considering a move to third base to just to keep Adams big bat in the lineup. Adams is already rounding back into his 2013 all-star form, while St. Louis is hurting from dealing him away. Adams obviously loves being in Atlanta, but the trade rumors are swirling as we inch ever closer to the all-star break.
3) OF, Joc Pederson, L.A. Dodgers
Since coming back from a concussion two weeks ago, Joc Pederson has put together a very impressive June and is suddenly fantasy relevant if he can keep pounding the ball. Pederson is playing in his third straight full season and sports a non-inspiring career .226 batting average. However, he seems to figured something out because he's batting .319 during the month of June with five home runs and ten RBI's. I'm not saying that Pederson is the answer to your fantasy prayers, but if your team is smarting from the injury bug, your squad could ride him before he cools down.