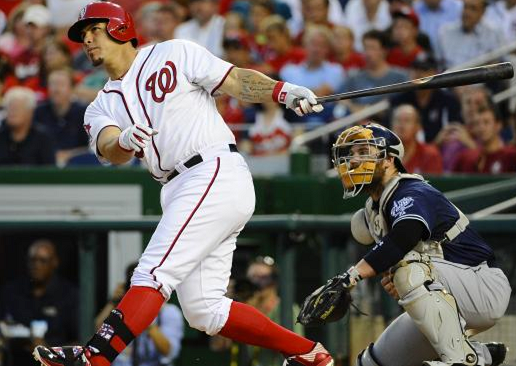 Written by John Adams
21 June 2017
1) (Fantasy Red Alert) C, Wilson Ramos, Tampa Bay Rays
With the exception of one or two players, the catcher slot is a throw away position for fantasy baseball teams in 2017. If you follow the game at all, you know that Wilson Ramos is one of the league's very few power hitting catchers. Before his knee injury last September with the Nationals, Ramos was batting .307 with 22 jacks and 80 RBIs. Adding Ramos is a No-Brainer the very second he becomes eligible on your waiver wire (He is expected back on Sunday). Because the catcher position is so desolate of hitting talent, there is rarely a chance to make that position shine - So you have NOTHING to lose by rostering Ramos and everything to gain. This is NOT a drill, add Ramos, keep your fingers crossed and he could lead your fantasy team to the promised land.
2) OF, Trey Mancini, Baltimore Orioles
So there's this rookie outfielder named Trey Mancini who started off hot at the very beginning of the season and hasn't cooled down since. He's had multiple hit games all season long and is batting .305 on the season and .333 during the month of June. The kid really beats up on lefties and gives no indication that he will slow down any time soon, so it's hard to believe he's available in two thirds of all fantasy leagues, but there you have it. Compare his numbers to the outfielders on your fantasy team and see if they stack up.
3) OF, Bradley Zimmer, Cleveland Indians
Bradley Zimmer is what we like to call a speculative addition to your fantasy roster. The Indians rookie collected 10 hits in his last 10 games and has slugged his way right onto the starting lineup in Cleveland. Zimmer has only played in 31 games this season sporting a .294 batting average with 20 RBIs and an OBP of .375. But what sets this 6 foot 5, 220 pound giant apart from his peers is his breakneck speed. Zimmer already has 6 stolen bases and should add a ton of them as he acclimates to life in the bigs.