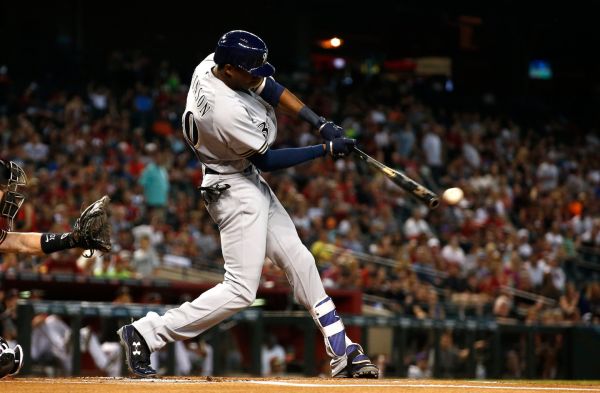 Written by John Adams
14 June 2017
1) OF, Lewis Brinson, Milwaukee Brewers
If you put any stock in the top minor league prospects in baseball, it makes sense to stop what you're doing right now and add Brewers OF Lewis Brinson. He made his major league debut on Sunday in Arizona where he walked twice and stole a base. After dealing with shoulder injury most of last year, Brinson has been taking care of business in Triple-A with a .312/.397/.503 line to go with six homers and seven steals. Brinson will have his growing pains in the bigs, but couple his power and walks with stolen bases and you could be dealing with a game changer for your fantasy squad. Even if Milwaukee sends him back down when Jonathan Villar returns from the 10-day DL, he is still worth the speculative add.
2) OF, Jose Pirela, San Diego Padres
The sample size is very small. Padres OF Jose Pirela has only played in 9 games so far this season, but no one in their right mind can ignore his hot start. In just 33 At Bats in the leadoff position, Pirela has destroyed the stat sheet with a mind-numbing 15 hits, 7 RBIs, 2 home runs, four doubles and four walks. The 27-year-old has been waiting for his shot at major league level and the Padres are going to give it to him. These kind of numbers can only last so long, but someone is going to grab this guy sooner or later.
3) OF, Odubel Herrera, Philadelphia Phillies
After batting a dismal .183 and striking out 30 times during the month of May, most fantasy owners called it quits on Phillies OF Odubel Herrera. But somehow, during the month of June, the 25-year-old has turned it all around. With the warmer weather, Herrera is whacking doubles at will and is batting .396 since the beginning of June. Suddenly, he is seeing the ball better and cutting down on all the strikeouts.