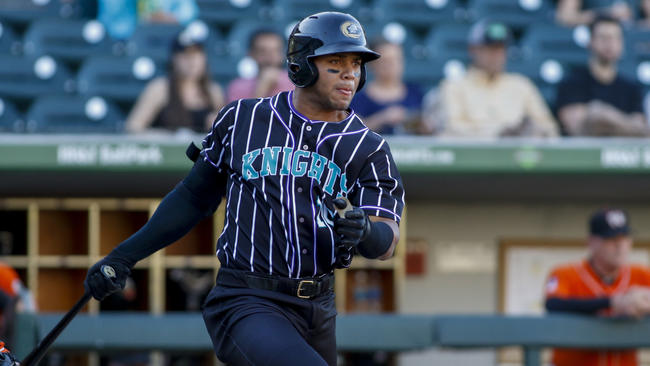 Written by John Adams
24 May 2017
1) 2B/3B: Yoan Moncada, Chicago White Sox
You probably are NOT able to add White Sox infielder, Yoan Moncada on to your fantasy roster yet. However, you should check right now to see if he's available, because this is a player you have to make room for. He's nursing a sore left thumb, but that's not really a concern, he is the definition of a must add player.
Moncada turns 22 on Saturday and the White Sox are prepared to call him up from Triple-A Charlotte where's he's been destroying opposing pitchers batting .331/.401/.504 with six home runs and 10 steals in just 34 games. Moncada is projected to be an every day starter in Chicago with nothing but upside.
He was one of the most sought after rookies in baseball history after he signed with Boston two years ago commanding a record breaking $31.5 million signing bonus. He ended up in Chicago in December after Boston made a deal to sign pitching ace Chris Sale.
2) OF: Ian Happ, Chicago Cubs
Staying in the Windy City, the Chicago Cubs have another young player who is turning heads with his batting skills. Ian Happ recently got called up from the minors and is playing like a top-flight veteran. The sample size is small, he's only played in 9 games, but in 31 at-bats, he's batting a robust .323 with a .417 OBP. He's sure to cool off, but he's certainly worth a speculative add with a high ceiling.
3) C: Yan Gomes, Cleveland Indians
Catchers are one of those necessary evils in fantasy baseball and often times you have to set the bar rather low. But if you are ready to upgrade your team at the catcher position, then Yan Gomes is your man. Don't let his .255 batting average scare you away, this guy has been on fire this month overcoming a dismal start to the season. During the month of May, Gomes is batting .340 with 10 RBIs and is a legitimate fantasy option at a historically thin position.