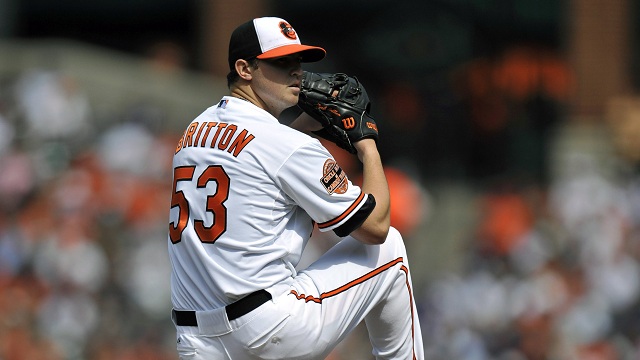 Written by Brian Murphy
19 April 2017
This week's Closer Report isn't lacking for material as there have been numerous bullpen shakeups over the past few days. Let's go through each as concisely as possible.
Washington Nationals
The most recent ninth-inning switch, as of Wednesday afternoon, came Tuesday night as Blake Treinen allowed two hits and a run for a second consecutive outing. Shawn Kelley came in to complete the save, and afterwards, manager Dusty Baker told the media, "This ain't working." Treinen hasn't been working well for basically the entire season as he has permitted five runs and six walks through 6.1 innings. The 32-year-old Kelley, following a rough beginning to the season, has turned in three perfect appearances recently. He looks like the add here if you need a closer right now, but don't forget about Koda Glover. The man with the high-90s fastball and mid-90s slider has compiled a 1.06 WHIP and 2.02 FIP through 5.2 innings. Curiously, he has struck out just four batters, but it's clear that he has more of a closer-style repertoire than Kelley. He should be next in line, and Kelley's leash will probably be especially short. 
Texas Rangers
Sam Dyson has been removed as the closer, mercifully. He has allowed 13 runs and blown three save opportunities in 4.1 innings thus far, which isn't optimal. Adding injury to insult, he was placed on the disabled list Monday after sustaining a contusion to his right (pitching) hand while trying to field a comebacker Sunday. With Dyson far out of the picture, there is no surefire replacement for the Rangers, but Matt Bush looks like the best bet. He struck out the side during a perfect inning Sunday and holds a 0.86 WHIP. However, he has been dealing with a balky shoulder in the early going, so the Rangers will play it safe with him when possible. In those times, expect Jeremy Jeffress, who notched 27 saves in four months with the Brewers last season, to pick up any scraps. Both players should be added in most leagues while Bush is the priority.
Baltimore Orioles
Zach Britton hasn't been as unhittable this year as he was in 2016, but his streak of 54 consecutive saves is still intact and will be waiting for him once he comes off the disabled list. The elite reliever landed on the DL last week with a forearm strain. Such a diagnosis sometimes requires an extended absence, but it sounds like Britton's ailment is relatively minor. There is still hope that he'll be back before the end of the month. Until then, Brad Brach is filling in. He was one of the game's best relievers last season and hasn't lost a step in 2017. He is generating a lot of soft contact and has given up just one hit through six innings. Brach is a must-add of the highest order even though he likely won't hold his new gig for too long. Darren O'Day might be handed a save opportunity as well, but he has been pretty terrible in these opening weeks.
St. Louis Cardinals
As I write this, Trevor Rosenthal has just nailed down a sweep-clinching save against the Pirates. Seung Hwan Oh was given the day off after pitching in the previous two games, but he needs to be put on red alert. The 34-year-old Final Boss has permitted multiple hits in five of his six appearances and has an 8.10 ERA to go with an equally stomach-churning 1.95 WHIP. On the flip side, Rosenthal seems to have somewhat rediscovered his pre-2016 form, touching 100 mph regularly and looking mostly dominant. Through 3.1 innings, he has given up four hits, no runs, no walks and has struck out seven. That's short sample size theater, sure, but it's better than anything Oh has accomplished this season. And again, Rosenthal was a top-shelf closer just two years ago. With one or two more shaky appearances from Stone Buddha, we're probably looking at an official changing of the guard in the Gateway City.
Houston Astros
Nothing has been made official here, yet it looks like Ken Giles' grasp on the closing job is becoming tenuous. After giving up four runs across two innings in separate appearances, he was thrown into Saturday's game in the eighth inning while the Astros were leading by three. He gave up another run there, too. Luke Gregerson pulled the curtain down on that victory, but since Houston tacked on a couple of insurance runs in its half of the eighth, no save was doled out. Now, Giles did earn a save Monday with just one walk to go along with three Ks. But I can't believe he is suddenly back in the good graces. If Gregerson was pitching halfway decently -- he owns a 7.36 ERA right now -- Giles may have already been surpassed on the depth chart. 
San Diego Padres
It's difficult to save games you don't win, and the Padres entered Wednesday as losers of five straight and six of seven. One of those defeats was attributed to current closer Brandon Maurer, who allowed a run on three hits and an intentional walk Monday in Atlanta. Maurer's job would be in jeopardy if San Diego was either competitive or had a clearly superior option on the roster. But neither of those are true. Ryan Buchter may be the next man up, but he has been so-so as well. Carter Capps, who is nearing an MLB return following his 2016 Tommy John surgery, is someone to watch. He can reach 98-99 mph on the radar gun and is on track to debut this month. Granted, Capps hasn't pitched in the majors since 2015.
Oakland Athletics
The closing situation in Oakland became a little clearer last week but remains far from ideal. At least we know that we can rule out Ryan Madson, who has been anointed as a setup arm. However, there are still two closers in the picture: lefthander Sean Doolittle and righthander Santiago Casilla. Each man will be used according to how the opponent's lineup looks in the ninth -- Doolittle will get his chances versus lefty-heavy crews and Casilla will tackle the righty orders, like he did while recording a save Tuesday. This is for desperate and brave owners only.
New York Mets
The Metropolitans will welcome back Jeurys Familia on Thursday. That's when his 15-game suspension ends. There has been some talk about New York easing Familia back into the ninth inning, first using him in some lower-leverage spots. Regardless, last year's saves leader will take over his usual role soon, moving Addison Reed back to setup duty. Reed has been mostly good as a closer for the Mets, although he did give up a game-winning homer Sunday in Miami.