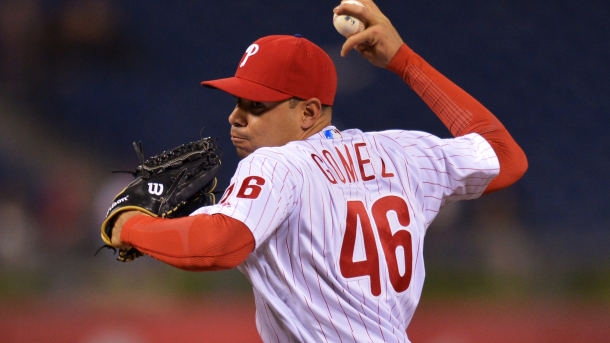 Written by Brian Murphy
05 April 2017
Cam Bedrosian looks like the Los Angeles Angels' closer of the present -- and possibly the future
Filling in for the injured Huston Street, the 25-year-old Bedrosian sat down the Oakland A's in order Tuesday night to notch his second career save and his first of 2017. Street had a disastrous 2016 and will probably miss the first few weeks of this season due to a strained lat muscle. Although manager Mike Scioscia hasn't publicly anointed Bedrosian as his replacement closer, the youngster has the swing-and-miss stuff you look for in a ninth-inning man. He averaged more than 11 strikeouts per nine innings last year and a better than 3:1 strikeout-to-walk ratio. The Angels may not win many games, but there is a case that whenever they are in a close one, Bedrosian should be on the bump even when Street is healthy. Go add Cam in all leagues.


The Philadelphia Phillies are "concerned" about Jeanmar Gomez
It feels like Gomez is on a short leash just three days into the season. Maybe for good reason because although he saved 37 games last year, he posted a 4.85 ERA and a 1.46 WHIP. His 2017 debut was, like many of his 2016 outings, a bit rocky but ultimately successful. Gomez allowed a two-run homer in the ninth but was able to hang on and secure a one-run victory over the Reds. After the game, Phillies manager Pete MacKanin said he was "concerned" about Gomez, stressing that he needs to get the ball down more often and that Gomez is the closer "for right now." The men next in line should be fireballer Hector Neris, who was really good for the majority of last season, and 39-year-old Joaquin Benoit. Granted, two different pitchers -- Pat Neshek and Joely Rodriguez -- were warming up Monday while Gomez was struggling, but Neris is the guy I would prefer to stash. Unless Gomez really turns it around, a change is coming in Philly, most likely sooner than later.
Santiago Casilla gets the first crack at closer for the Oakland A's
Here's another bad AL West team with a rather nebulous closing situation. The A's have Casilla, Ryan Madson, Sean Doolittle and John Axford in their bullpen. All four have had notable success previously in closing out games, but that feels like a long time ago for anyone in that group. The team has not officially named a closer, but it was Casilla, the former San Francisco Giant, who received the first opportunity Monday. Other than a walk, he was clean. However, there probably won't be many save opportunities for this team this season, and I think you'll see each person in this quartet get a ninth-inning shot at some point. Even Ryan Dull could get a chance or two. in other words, I would try to avoid this bullpen and the hassle it will bring at all costs. And if you're desperate, pick up Casilla and hope for the best.