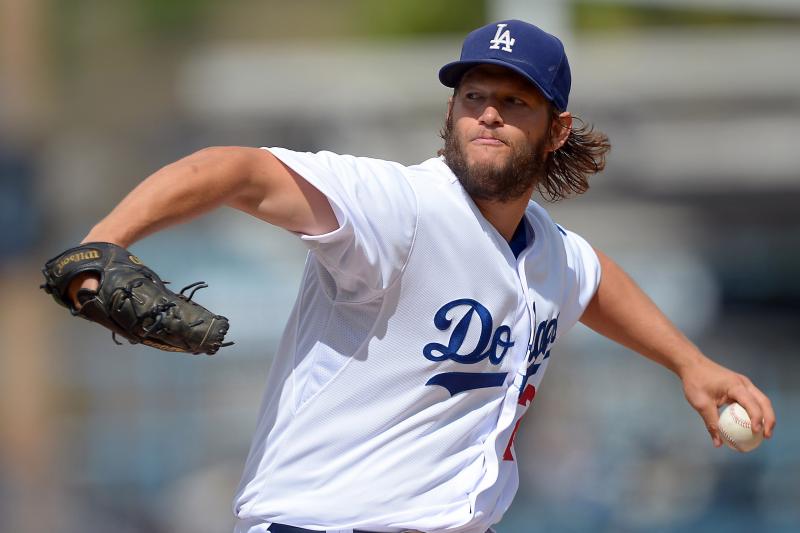 Written by Brian Murphy
30 March 2017
1. Clayton Kershaw, Los Angles Dodgers
There is no doubt. Kershaw would have won his fourth career Cy Young Award in 2016 if he hadn't missed more than two months due to a back injury. Regardless, he still notched his sixth consecutive top-five finish in the race. Aside from last year, he doesn't have a long medical sheet and won't turn 30 until next March. 
2. Max Scherzer, Washington Nationals
Try to sucker your league mates into thinking Scherzer is still being bothered by his broken finger. See if you can get him at a slight discount. His four-year average includes 18 wins, 223 innings pitched, 263 strikeouts, 2.95 ERA and 1.01 WHIP.
3. Madison Bumgarner, San Francisco Giants
MadBum's body has somehow yet to falter under some tremendous innings loads. No reason to expect that to change in his age-27 season. He gives a fantasy owner everything they could ask for and would be even more valuable if the Giants could give him consistently decent run support.
4. Corey Kluber, Cleveland Indians
If you miss out on him in your draft, try to steal Kluber in a trade after he has an uninspiring April. He's been relatively poor early in the season for the past three years, only to turn into one of the game's best when summer arrives. Even with the early-season swoon, I think he is the best fantasy pitcher in the American League.
5. Noah Syndergaard, New York Mets
The scary possibility is that Thor probably hasn't reached his ceiling yet. The 24-year-old posted a .334 BABIP and endured through below-average run support last season. With a little more luck and a little help from his friends, Syndergaard could become fantasy's best non-Kershaw arm.
6. Chris Sale, Boston Red Sox
There is some trepidation surrounding Sale just because he has struggled at times in Fenway Park. However, he has traditionally dominated the other AL East teams and will love being the beneficiary of Boston's offense. No matter what, you know he will pick up the Ks in bunches.
7. Yu Darvish, Texas Rangers
After a few injury-marred seasons, including a completely missed 2015, Darvish looks ready to once again turn in elite totals. Health is all it comes down to for Yu. If he is able to pitch every fifth day, he will probably finish above seventh in the fantasy pitcher rankings at season's end.
8. Jake Arrieta, Chicago Cubs
As long as you don't expect Arrieta to repeat his incredible 2015 stat line, you won't be disappointed with what he gives you. Last season was a step back in comparison, but he was still really, really solid. I think there's a good chance he can repeat that success.
9. Justin Verlander, Detroit Tigers
Verlander may have found the Fountain of Youth last year as his fastball gained a little more life and his strikeout rate topped 10 for the first time since 2009. I don't think his numbers will be as good in 2017, but he still belongs in the top 10.
10. Chris Archer, Tampa Bay Rays
Archer's fantasy value, like Syndergaard's, could really improve if he gets more luck and support. He was done in last year by a fluky amount of home runs allowed and the league's fifth-worst run support among qualified starters. His ERA -- 4.02 last season -- should drop by at least a half a run, and he still misses plenty of bats.
HONORABLE MENTION: Jon Lester, Chicago Cubs; Johnny Cueto, San Francisco Giants; Stephen Strasburg, Washington Nationals; Jacob DeGrom, New York Mets.
Previously: