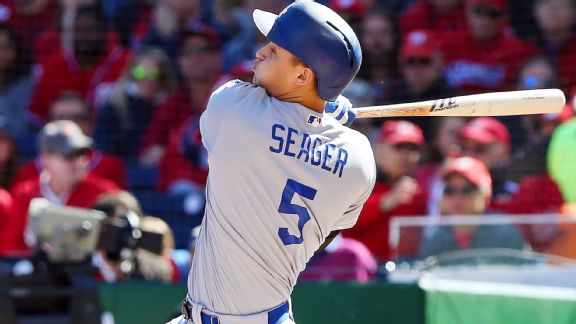 Written by Brian Murphy
17 March 2017
1. Corey Seager, Los Angles Dodgers
Most people have my No. 2 choice at the top of their shortstop list, but I think Seager is going to give you a better average and as much power as Correa.
2. Carlos Correa, Houston Astros
Entering his age-22 season, Correa has already racked up nearly 1,100 plate appearances. We're probably still far away from seeing his best. Right now, he doesn't stand out in any one category but helps out in all five.
3. Xander Bogaerts, Boston Red Sox
Bogaerts will have to pick up a lot of the slack in the wake of David Ortiz's retirement. I think he's up to the task. My only concern is that he may not replicate his 21 homers from last season.
4. Francisco Lindor, Cleveland Indians
A steal in many drafts last year, Lindor should be off the board in standard 5X5 leagues before the end of the third round. It's amazing how much better he has become as a hitter since his minor league days.
5. Trevor Story, Colorado Rockies
No one should have forgotten what Story accomplished prior to picking up a season-ending thumb injury in August. His power has been on display this spring, which is a great sign. If he plays a full season and hits .272 again, he may be too low on this list. 
6. Aledmys Diaz, St. Louis Cardinals
One of 2016's best waiver wire pickups, Diaz should improve upon last year's stats as the Cardinals' No. 2 hitter, between Dexter Fowler and Matt Carpenter.
7. Troy Tulowitzki, Toronto Blue Jays
Things have not gone smoothly for Tulo in Toronto, but I'm keeping the faith. It was nice to see his home run total bounce back a little bit last season. He'll be depended upon to produce more now that Edwin Encarnacion has departed for Cleveland.
8. Addison Russell, Chicago Cubs
Russell knocking in 90-plus runs again is highly unlikely and 20-25 home runs should be his ceiling. But we're still waiting for his average to rise and that should occur before long. He's only 23.
9. Brad Miller, Tampa Bay Rays
Like Brian Dozier, Miller's power surged to previously unthought of levels last season. He doesn't offer a ton of help elsewhere, but if you can get 30 homers from your shortstop, you take it. Just pray for a repeat. Miller is also eligible at first base and should gain second base eligibility early in the year.
10. Jean Segura, Seattle Mariners
There's no way Segura will match last year's totals following his move to spacious Safeco Field. However, he is good enough still to sneak his way into this top 10.
HONORABLE MENTION: Elvis Andrus, Texas Rangers; Brandon Crawford, San Francisco Giants; Dansby Swanson, Atlanta Braves; Marcus Siemien, Oakland A's; Didi Gregorius, New York Yankees.
Previously: Top 10 First Basemen