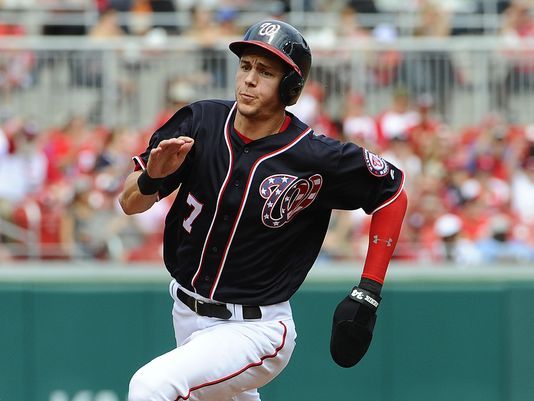 Written by Brian Murphy
03 March 2017
1. Jose Altuve, Houston Astros
The only question around this 26-year-old is whether he should be the second or third player chosen in standard mixed leagues.
2. Trea Turner, Washington Nationals
Some may disagree with Turner being listed at No. 2 because he has accumulated just 347 big-league at-bats. But in that time, he smacked 14 homers, stole 35 bases and hit .324. He has very real 20-40 upside with a .900-plus OPS. As a bonus, he has outfield eligibility and will gain eligibility at shortstop during the season's first month.
3. Robinson Cano, Seattle Mariners
Assuming Father Time doesn't come for Cano's baseball abilities during his age-35 season, he is as safe as they come. However, don't expect him to hit 39 home runs again.
4. Daniel Murphy, Washington Nationals
Murphy's 2016 season was magical, and I don't think he'll experience much of a slide this season. Sure, he's not going to lead the league in slugging percentage, but he is well-deserving of a top four spot at this position for fantasy purposes. He is for real.
5. Brian Dozier, Minnesota Twins
I think we enter a lesser tier after No. 4, starting with Dozier. I'm on record as saying he will bust, but he won't be drafted lower than fifth or sixth at this position. As his home run total normalizes, his run production will obviously fall along with his batting average.
6. Rougned Odor, Texas Rangers
Odor is another tricky proposition. You love the power, but he's kind of an all-or-nothing player. He doesn't walk and is not great at getting on base, so if his 17 percent home run-to-fly ball ratio backslides this season, it could get ugly. What's in his favor is that he just turned 23. Dozier will hit 3-0 during the season.
7. Dee Gordon, Miami Marlins
Last year's interrupted season was an aberration for Gordon, I believe. Perhaps his average has a .300 ceiling, but I think he'll go back to being someone who racks up hits in bunches and could league the game in steals.
8. Ian Kinsler, Detroit Tigers
Kinsler just keeps putting up solid if not spectacular stats. He is heading into his age-35 season, does have a fairly worrisome injury history and is unlikely to match his 28 homers from 2016. However, if he stays healthy, you know you will get about 20 HRs with 100 runs, 80 RBIs, double-digit steals and a .280 average, give or take.
9. Jonathan Villar, Milwaukee Brewers
Villar's speed alone would make him worth drafting. Chip in 15 homers, a useful average and 90 runs, and he belongs in this top 10.
10. Jason Kipnis, Cleveland Indians
Sitting in the middle of the Indians' scary top of the lineup, Kipnis is primed to see a ton of good pitches to hit. He may not steal 15 bags, but I think his average will bump up while the 20-plus homer power remains.
HONORABLE MENTION: Dustin Pedroia, Boston Red Sox; D.J. LeMahieu, Colorado Rockies; Ben Zobrist, Chicago Cubs.
Previously: Top 10 First Basemen