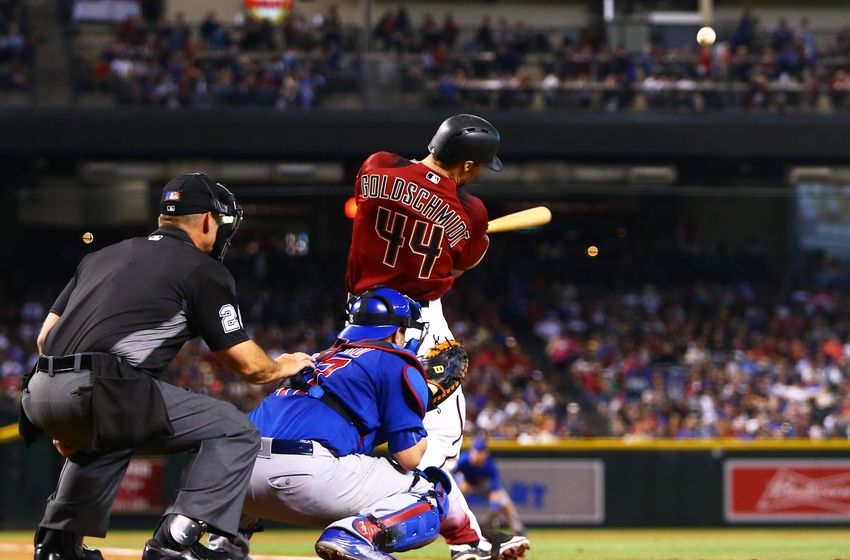 Written by Brian Murphy
24 February 2017
1. Paul Goldschmidt, Arizona Diamondbacks
If his green light to run remains, Goldschmidt has a legitimate shot to become only the third first baseman since the turn of the 19th century to provide a 30-30 season. He's a top-five pick.
2. Anthony Rizzo, Chicago Cubs
The 27-year-old Rizzo has played in at least 155 games in three of the past four seasons and is a mortal lock for 30 homers and 100 RBIs. If might not hit .300 like some of the players behind him, but if he can steal 17 bases again, as he did in 2015, I have no doubt Rizzo will finish the year as at least the season's second-best first baseman in fantasy.
2. Miguel Cabrera, Detroit Tigers
Age and injuries are of concern, but Miggy may be worth a first-round pick because he could still hit 40 homers while putting up a .325-.410-.550 slash line. That line is what Cabrera pretty much averaged over the previous two seasons, so why expect a sudden dropoff in his age-34 season?
3. Joey Votto, Cincinnati Reds
Votto ended last year with an impressive .326 average and .985 OPS. That looks even better when you consider that Votto was posting .215 and .740 in those respective categories into June. If Votto can avoid another early-season slump, he'll be a relative bargain on draft day.
5. Freddie Freeman, Atlanta Braves
Completely underrated while playing for the bottom-feeding Braves, Freeman absolutely tore it up over the final two months of last season, compiling a ridiculous 1.141 OPS with 16 homers in his final 54 games. Now we just have to see if the power is for real. Freeman had never hit more than 23 home runs prior to 2016.
6. Edwin Encarnacion, Cleveland Indians
You'll take Encarnacion's .260-.270 average as long as he continues to produce runs in bunches. That shouldn't be an issue for as long as he bats behind Jason Kipnis, Francisco Lindor and a hopefully healthy Michael Brantley.
7. Jose Abreu, Chicago White Sox
He drove in 100 runs and hit at least .290 for the third straight year, but Abreu's 2016 was considered a small disappointment because he smashed 25 home runs instead of 30-plus. He has fallen into the fifth round in some drafts, so it looks like he will have quite a bit of value this spring. 
8. Hanley Ramirez, Boston Red Sox
Ramirez is coming off a resurgent season. I doubt he'll club 30 homers again, but even with that, you can bank on a near-.300 average, 20-plus homers, a handful of steals and a high on-base percentage whenever he's healthy.
9. Wil Myers, San Diego Padres
I need to see it again from Myers. He might join Goldschmidt in the 30-30 club if he picks up where he left off last season. However, given his long injury history and always-poor batting average, he has the look of a player whose fantasy value could crater if he can't match his career-high home run rate from last year.
10. Eric Hosmer, Kansas City Royals
The Royals have to hope that, after years of waiting, Hosmer's power is really starting to blossom as he is smack-dab in the middle of his athletic prime. Although his 21.4 percent home run/fly ball rate from last season looks unsustainable (his career average is 13.4 percent), a five-category contribution of 80-20-90-5-.280 looks safe.
HONORABLE MENTION: Carlos Santana, Cleveland Indians; Chris Davis, Baltimore Orioles; Adrian Gonzalez, Los Angeles Dodgers; Brandon Belt, San Francisco Giants.