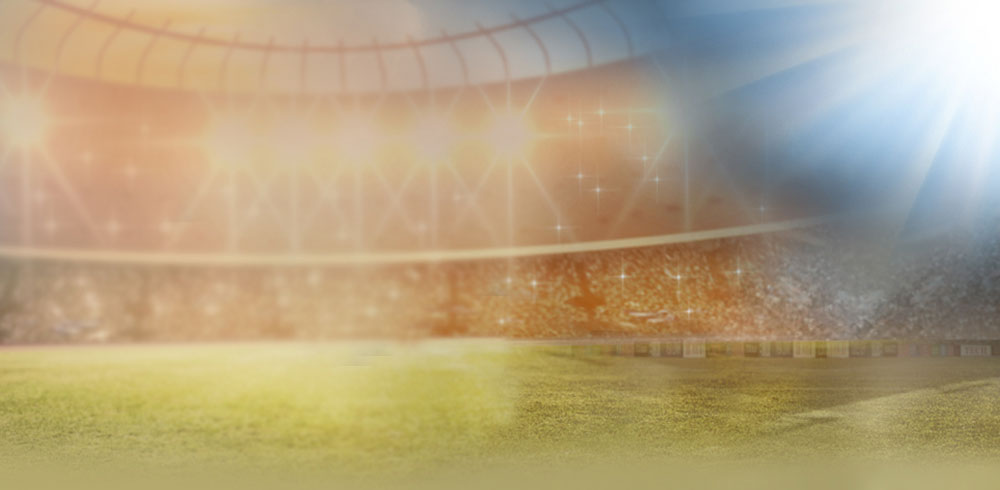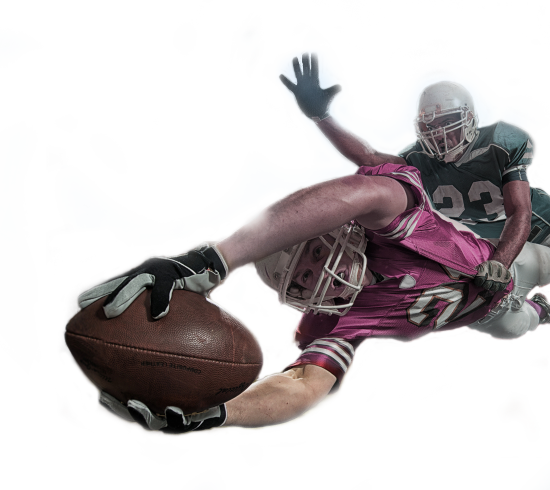 Easy to Use. Proven to Dominate!
THE MACHINE

for Lineups, Waivers and Trades
Powerful fantasy football sit or start, waiver wire, and trade advice
Guidance based on season-long weekly projections from three experts
Patent-pending win-based math focusses on the only thing that's
important – winning
Auto-setup synced to your league for all your in-season guidance
Get Started
Supports ESPN, Yahoo, CBS Sports, MyFantasyLeague and RT Sports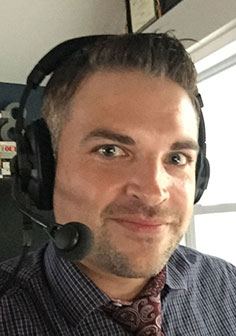 Jeff Ratcliffe
ProFootball Focus
---
Rated most accurate by FSTA* and FantasyPros
Has access to unique PFF data, used by NFL teams
Uses deep analytics and regression-based optimization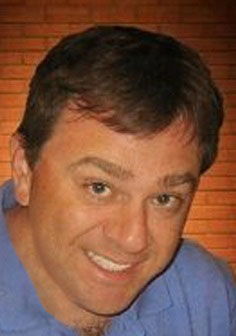 Tony Holm
Fantasy Sharks
---
3-year player projections
Over 50 fantasy experts on staff
Track record of projection accuracy
FSTA* Hall of Fame nominee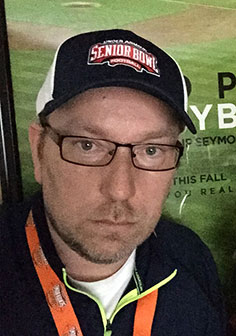 R.C. Fischer
Fantasy Football Metrics
---
Analyst for NFL team scouts
3-year projections with rookie focus
Powerful analytics-based scouting model
Dynasty fantasy football expert based on college film study
*FSTA — Fantasy Sports Trade Association
Lineup Recommendations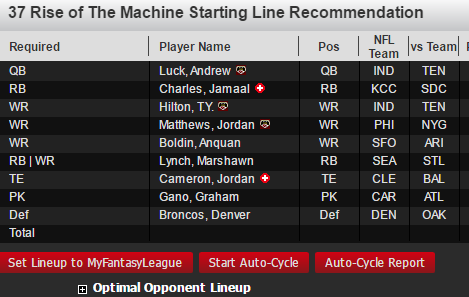 Sit or Start Analyzer
---
See who to start based on your blend of expert projections
Easily explore the impact of judgment-call sit or start decisions
Submit your lineup with a single click*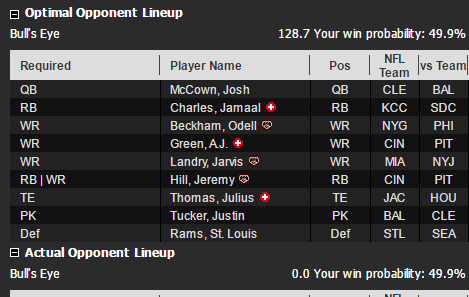 Opponent's Lineup
---
See how your lineup compares with your opponent's lineup
Decide banged-up player risk/reward sit or start decisions based on need
Optimize same-team QB-WR pairings when you have the stronger team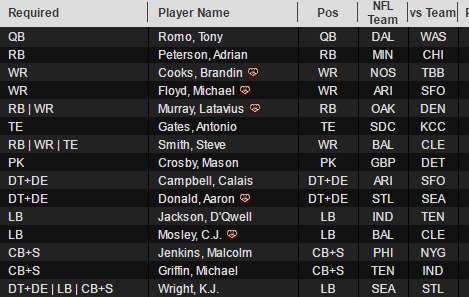 Flex and IDP Support
---
Supports any flex configuration, including flex QBs and multiple differing flex slots
Fully supports IDP, including separate DT, DE, CB, S and special teams
Supports combined positions, such as WR+TE
*Single-click Lineups is only available for MyFantasyLeague and RTSports leagues
Waiver Recommendations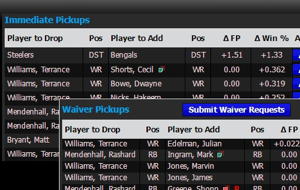 Waiver Wire Recommendations
---
Prioritize advice to help your team this week, in the future, or for both
Generate full fantasy waiver wire recommendations
Submit single add/drop or full waiver wire rounds with a single click*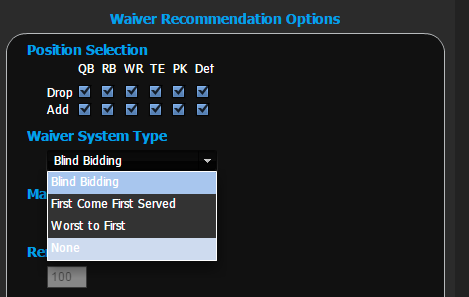 Full Waiver System Support
---
Directly supports over a half dozen types of systems, including rounds, groups (RT Sports), waivers (CBS Sports), and first-come first served
Generates FAAB and blinding bidding buck recommendations based on value, scarcity and week of season
Shows add/drop value for this week's lineup and overall win probability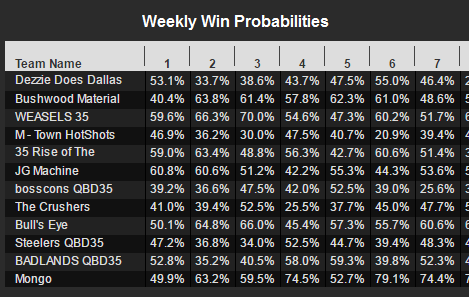 Win-based Math
---
Automatically optimizes add/drops for the weeks that help you
Helps you find free agents pickups for the playoffs ahead of the competition
Enjoy the benefits of the most powerful fantasy waiver wire tool ever
*Single-click Waivers is only available for MyFantasyLeague
Trade Tools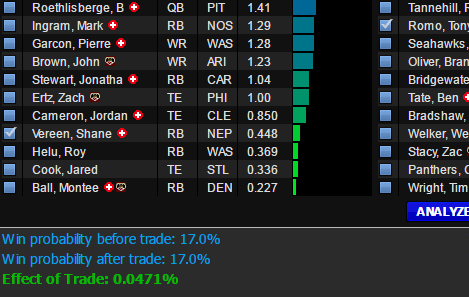 Trade Analyzer
---
Receive instant analysis of fantasy trade offers based on win probability
Quickly explore and decide on proposals and counter offers
Master the art of trading with Trade Analyzer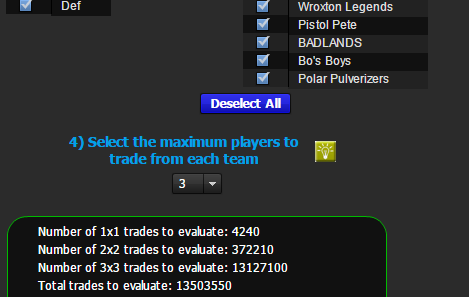 Trade Finder
---
Set which players to trade away and positions to trade
Set teams to trade with and whether to search through 1x1, 2x2 or 3x3 trades
Evaluate millions of potential fantasy trade ideas using on win-based math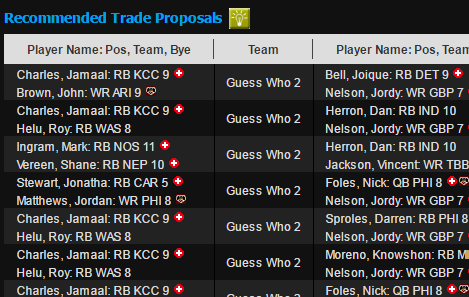 Trade Offer Recommendations
---
Finds the best trades with every team in your league based on complimentary needs
Sorts by most helpful to your team or likeliness to be accepted
Propose fantasy trades with a single click
Features & Mobile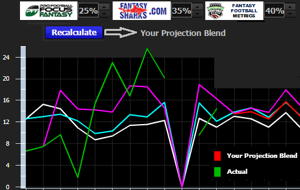 Projection Blending
---
Choose your own blend of expert projections
View season-long trend charts
See how your fantasy points are calculated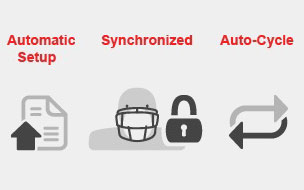 Advanced League Integration
---
Sets up automatically, supporting IDPs and 100+ scoring rules
Synchronizes to current rosters, free agents and locked players
Sets your lineups in all leagues with a single click*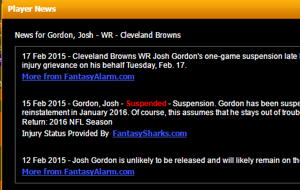 Player News and Injury Updates
---
Receive breaking news from RotoWire
Get injury updates from Fantasy Sharks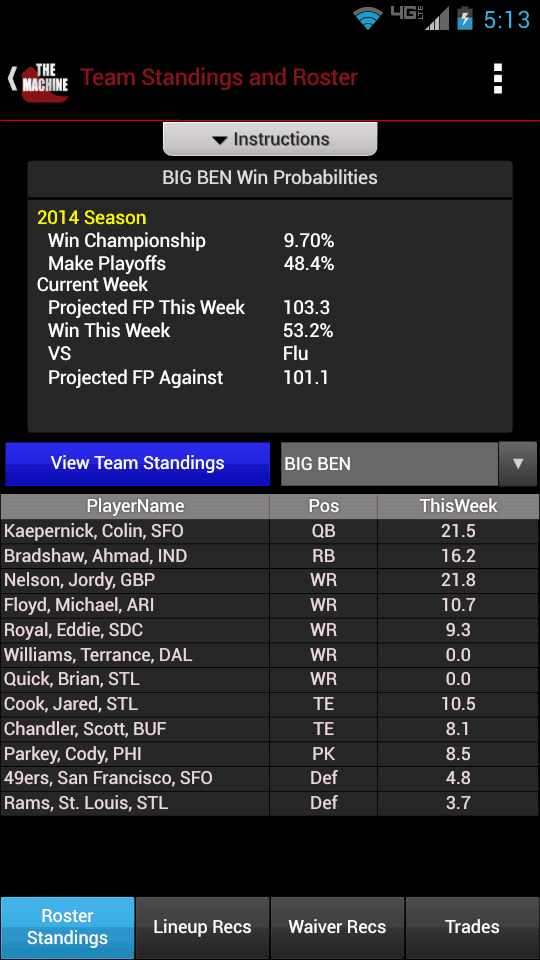 *Single-click Lineups is only available for MyFantasyLeague and RTSports leagues
*Single-click Waivers is only available for MyFantasyLeague
*Auto-Cycle is available only for MyFantasyLeague and RTSports leagues.

Proven Track Record:

Get the Fantasy Sit or Start, Waiver Wire and Trade Advice You Need to Win Your League.

Those that followed The Machine's guidance regularly for the first half of the season were 2.7x more likely to win their league by the end of the season compared with all other players.
Unleash the power of The Machine and start winning!
Get Started