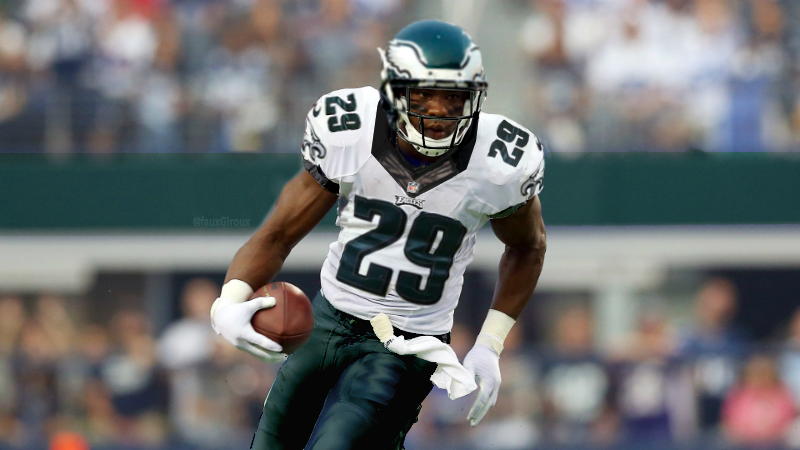 DeMarco Murray was the star of Texas in 2014. He averaged 4.7 yards per carry, basically carrying the Dallas Cowboys with him on each of his 392 totes. He led the NFL in rushing yards and rushing touchdowns and by the end of Dallas' playoff run, Murray had logged 497 touches, the sixth-most in league history.
Then came 2015, a big free-agent contract from the Philadelphia Eagles and … well, it was all downhill after that. Murray never fit in Chip Kelly's system and even found himself as Philly's No. 3 running back on some game days. Although he missed just one game, Murray's stats cratered across the board. It also appeared his legs were feeling the effects of all those touches and the hits that came with them. He went from being fantasy's No. 1 back to No. 18 in a year.
The Eagles washed their hands of Murray in March when they traded him to Tennessee. Now working for his third team in as many seasons – and with a revised, cheaper contract – can Murray recapture his previous greatness?
At least Murray's coaches are saying the right things. The belief is he will be the Titans' workhorse, and head coach Mike Mularkey remarked that he will be "used extensively" as a "featured back." For what it's worth, Murray thinks his body is ready to once again take on such rigors. Murray said soon after signing, "I feel like I took a year off last year, so I am fresh."
However, talk at this point is pretty worthless. Even following the "rest" that came with a 52 percent decline in touches, it's questionable we will ever see Murray at his pre-2015 effectiveness. The pieces around him don't inspire much optimism. Tennessee's offensive line is one of the worst in the NFL. It ranked 28th in run blocking in 2015, according to Pro Football Focus. Other than tackle Taylor Lewan, everyone else along that line received a negative grade.
The Titans will probably go with an offensive lineman in next week's draft, but with its trade down from the No. 1 overall spot, Tennessee bypassed selecting Ole Miss' Laremy Tunsil. There will be other attractive prospects for the Titans at No. 15, and it was probably smart for them to stockpile draft picks. But having Tunsil and Lewan as the line's bookends would have laid a strong foundation for an offensive attack that needs to be run-centric.
And don't buy Murray as an every-down player. The Titans still have Dexter McCluster and 2015 pick David Cobb in their RB stable, among others. Murray will probably spend a lot of third downs on the sidelines. When DeMarco was entering the history books in Dallas, he was running behind perhaps the game's best O-line and working in an offense with a quality veteran QB and a second major problem for defenses in Dez Bryant. Two years older and with those many carries tacked on, Murray is now running behind a clearly sub-par line and working in an offense with a sophomore quarterback and without another weapon that truly strikes fear in opponents.
With his disastrous season still fresh in all minds, Murray isn't going to be a first-round selection like he was in many fantasy drafts last summer. He should been viewed and drafted as a middle-of-the-pack RB2. There is some value to be had there because even if Murray never replicates what he did in 2014, fantasy owners shouldn't forget that he was a consistently productive player before that – when healthy. But Murray's ceiling in this flawed offense isn't too high, and the downside – a repeat of what he showed while with the Eagles– is downright scary. Keep any expectations extremely modest.