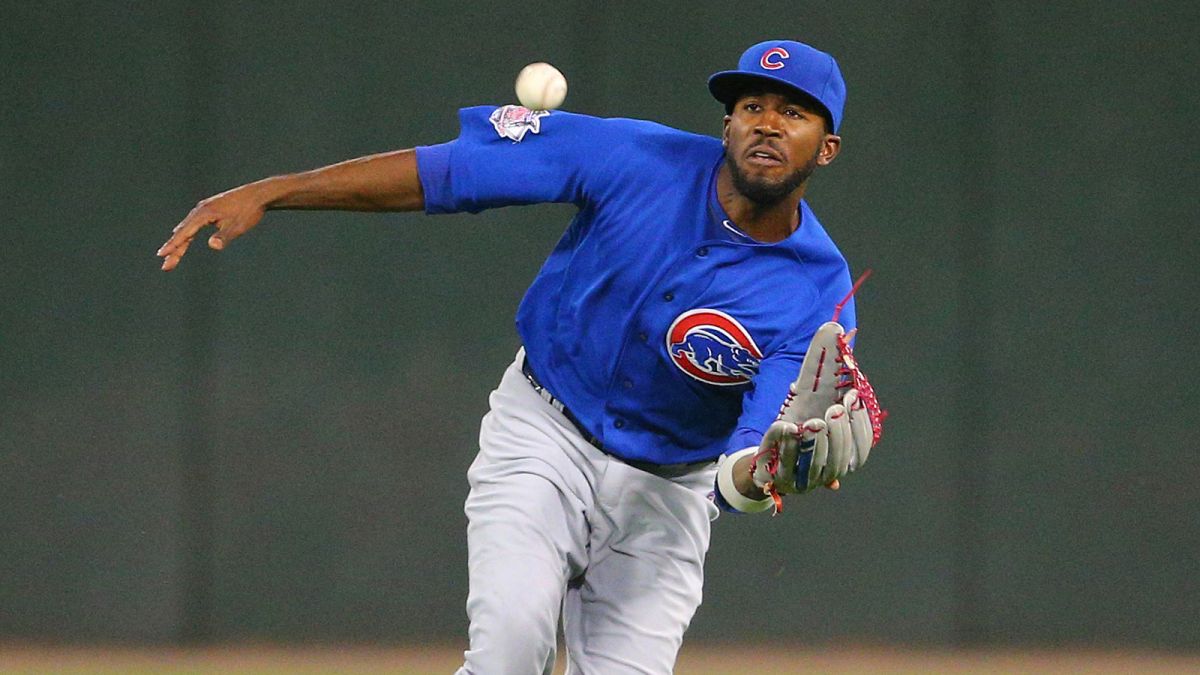 You must always know when to cash out. Many MLB players are riding a surprising hot streak in April, but as it goes in Vegas, that hot streak won't last. When the player (or the slot machine) inevitably cools, don't employ a gambler's fallacy that a return to prosperity is coming closer with every out. Do what you can to turn a profit out of these two players before the law of averages kicks in.
Dexter Fowler, OF, CHC
Fowler's start to the 2016 season is a great story. He has been the best hitter on the best team in baseball -- a team everyone thought he was no longer a part of two months ago. But after his agreement with the Orioles hit a last-minute snag, Fowler returned to Chicago's North Side. And boy, are the Cubs happy to have him back. While most of the lineup hasn't gotten on track quite yet, Fowler has been nearly impossible to keep off the bases. Entering Saturday, he has an OPS of 1.172 and an insane on-base percentage of .500. His career high in offensive WAR, according to baseball-reference.com, was set back in 2014 at 3.9. Three weeks into this season, he's already one-third of the way to that mark. Can Fowler keep this going? No, absolutely not. That is unless you believe Dexter Fowler is ready to turn into Babe Ruth, Ted Williams or Barry Bonds at age 30, in which case I would love to hear your reasoning (cue the condescending Wonka meme). Fowler is a worthwhile player playing like a once-in-a-generation talent. Almost half of the balls he has put in play have fallen for hits. Try to sell someone on how leading off for the league's best team will keep Fowler's stats up. That's not a complete lie, but from here on out, he should be much closer the .260-.270 hitter with moderate speed and power we've come to know.
Vincent Velasquez, SP, PHI
This key piece from December's Ken Giles-to-Houston trade has been the breakout mound star thus far. He opened his year with six shutout innings and nine strikeouts versus the Mets. Of course, that was nothing compared to his next outing – 16 Ks, no walks, three hits, complete game shutout. That'll do. He has a 98-MPH fastball, a 95-MPH sinker as well as a big curveball, a change-up and a lightly used slider. If you watched the 16-strikeout clinic he put on against the Padres, you saw a pitcher who knows how to mix his repertoire and keep hitters off balance. You saw a pitcher who pounded the strike zone with fastballs. You saw a pitcher hit 96 on the gun in the ninth inning. "Impressive" doesn't do it justice. Velasquez has walked just three batters in his first 19.1 innings, a very positive sign considering Velasquez averaged more than three walks per nine throughout his minor league career. However, the going won't always be so smooth for the rookie, as seen in his most recent start in which he gave up a couple of homers and didn't make it through the fifth. He's on the Phillies, so if your points or 5X5 league counts wins, there won't be a lot of those either. Lastly, Philadelphia will probably keep a close eye on his workload. Velasquez has never thrown more than 125 innings in a single year as a professional, and he logged just 88.2 innings last season between Double-A and the Astros. It's likely he will be given an innings cap, which will also cap what good he can do for your fantasy team. There will be more good than bad from him while he's out there, but if you can swap Velasquez and his currently magnificent stats for a bona fide ace – I've seen him traded straight up for Chris Archer – do the deal.