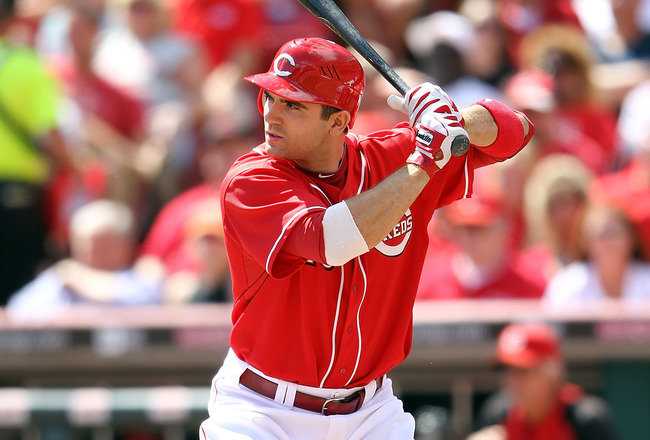 Everyone knows about buying low and selling high in market economics. That's the way the smart people do it, right? Well, that's not how it always goes. A lot of people sell low because they are prone to panic. This happens often in fantasy leagues. A player gets off to a slow start, and owners don't have the foresight to know that a couple of poor early weeks does not a season make. It's time to prey on their panic. Here are two underachieving players you need to go get. 
Joey Votto, 1B, CIN
Including Wednesday's latest 0-for-4, Votto is hitting .182 with a grand total of two extra-base hits. He hasn't posted a sub-.700 OPS in a qualified month since July 2008, yet his current OPS is .524. Any way you slice it, it's been an awful April for Votto. Why? Part of it is bad luck, and part of it is Votto just not staying true to his principles. Votto has hit a few more grounders and a few fewer fly balls than usual, but he actually has a hard-hit percentage of 41.8, which ranks inside the league's top 30. And less than 10 percent of his balls in play have been labeled as "soft" contact. However, Votto's .225 batting average on balls in play (BABIP) is more than 130 points below his career average. At some point, those hard-hit balls are going to start finding grass instead of gloves. Votto's approach at the plate has also been rather odd. He's been on record as saying that he's not a pull hitter and lives up the middle, but his current pull rate (46.3 percent) is more than 10 points above his career norm while his center field rate is at 24.4 percent; he's never finished a season at less than 30 percent in that category. Plus, Votto, who has drawn flak from the local media for walking too much in recent years, is on pace for just 75 bases on balls. That is not Joey Votto. Perhaps he's pressing at the plate, but outside of an unknown injury, the former MVP is too good and too smart to not break out of this slump in a big way soon.
Corey Kluber, SP, CLE
If it feels like we've been here before with Kluber, it's because we have. In 2014, he held a 5.40 ERA after his first four starts. All he did that season was finish with a 2.44 ERA and win the Cy Young Award. Kluber got out of the blocks faster in 2015, but saw his ERA go north of 5.00 into mid-May. That was down to 3.49 by season's end, but his fielding independent pitching (FIP) stated that he was even better: 2.97. Now, Kluber has a 6.16 ERA through three starts. His velocity has been down a tick, but he's still getting plenty of swings and misses. His current whiff rate of 15.3 percent is a career high, and missing bats is always a good thing. Kluber's stuff is still there. Expect Kluber's current .357 BABIP to normalize and for him to pitch closer to his 3.38 FIP. It should also be pointed out that three runs and a couple of hits in Kluber's most recent outing were the result of two fly balls lost in the sun by center fielder Rajai Davis. Kluber is surely looking forward to Michael Brantley's return. It's doubtful that Kluber will ever reach his 2014 numbers again. But he's miles better than his current standard marks. Pounce now.