Leonard LaPadula - CEO
Today marks another historic day for Advanced Sports Logic. We are the first ever to provide a trade arbitration capability based on the impact the trade has on each team's probability to win. Since no two people can agree on how all NFL players will do, many times trades are protested based on varying opinions of a players value. Advanced Sports Logic runs a trade analysis with four industry recognized sets of projections taking into account each team's roster, matchup schedule, scoring rules, and starting line up requirements. It also takes into account what players are available from waivers. Then if the trade analysis is good for each team with at least one set of projections, the trade is considered a fair trade because based on varying opinions each team owner could reasonably believe the trade benefits them.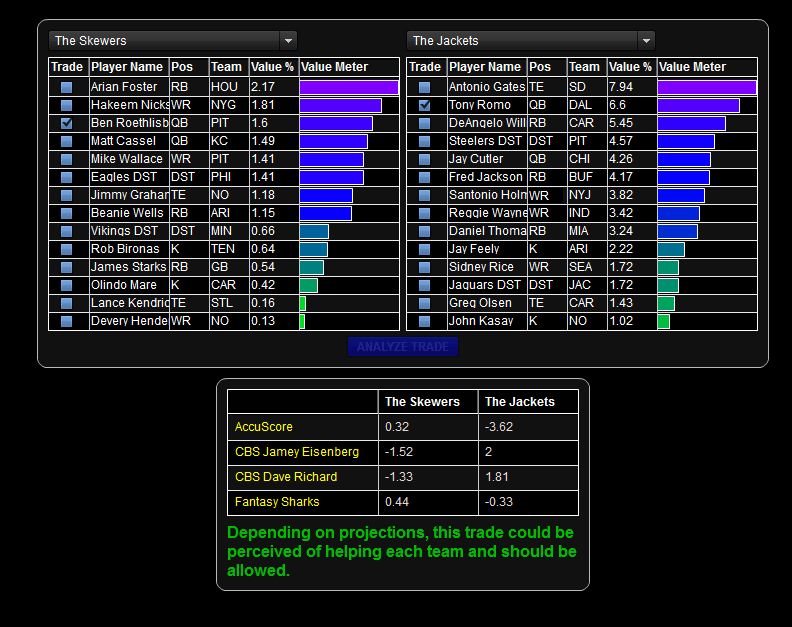 Advanced Sports Logic hopes to provide services to league providers in the future to make it much easier to identify and prevent collaborative and lopsided trades that owners lack the stamina to fight towards the end of the season when only a few teams remain standing. This year, the beta version of trade arbitration, shown above, will be made available free of charge to all commissioners in MyFantasyLeague, RealTime Fantasy Sports and to a select group of commissioners in CBS.