Leonard LaPadula - CEO
I am excited about our new Trade Analysis feature. It is the most comprehensive trade analysis tool ever available for fantasy football. Using The Machine's patent-pending probability-distribution season calculations, it is able to calculate the impact a trade has to your team based on your probability to win the championship. It includes consideration for the
strength of position on your roster and also what players are already available in waivers.

I received a message from one of my opponents, "BenJarvus Green-Ellis on the block, looking for a WR". So I opened up The Machine and compared the importance of my players and the importance of my opponents players using The Machine's drop analysis decent tier2 RB, so I plugged Malcom Floyd #2 WR for SDC, for BenJarvus. The Machine says this trade increases my change to win by almost 0.5%. I don't know if the proposal will be accepted, but I have entered the proposal, starting a process of trade negotiation. Hopefully, the trade will be accepted, if not, maybe I will get a counter and can use the Trade Analysis feature to help me find a beneficial trade my opponent will accept.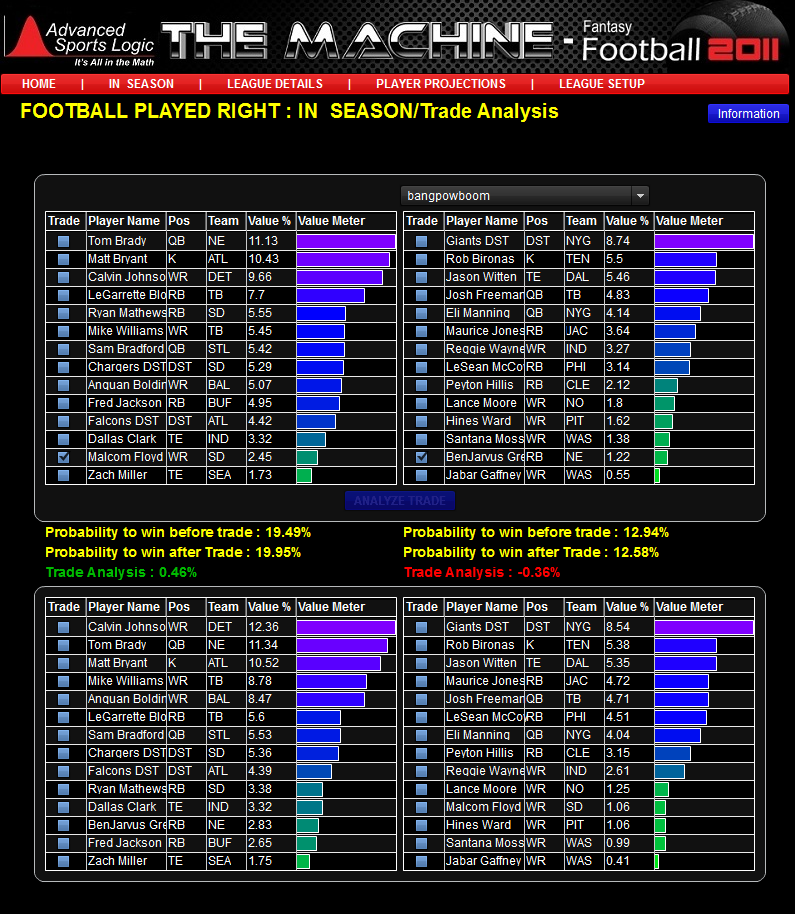 The Machine takes the guess work out and gives me the tools I need to continuously improve my team through the season.