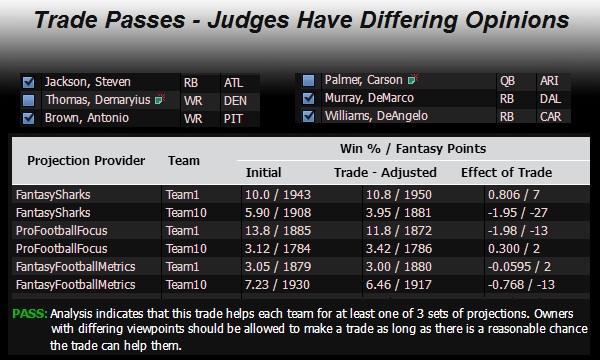 Rochester, NH (July 15, 2014) – Advanced Sports Logic, Inc. ("ASL") is pleased to announce Trade Judge, comprehensive trade dispute resolution software is now available free through CBSSports.com App Central.
ASL first introduced Trade Judge as a pay-for product in 2012. However, this year, ASL has decided to make Trade Judge free for all trading fantasy football leagues.
Trade Judge is the most comprehensive automated trade resolution dispute software available. Starting with season long weekly projections from Pro Football Focus Fantasy, Fantasy Sharks and Fantasy Football Metrics, Trade Judge uses patent-pending win-based mathematics to evaluate disputed trades based on the impact to win probability for each team involved. By using projections from multiple industry experts, it adjusts for reasonable difference of opinion between fantasy team owners. The win-based math accounts for matchup schedules, the balance between each team's need to win regular season matchups vs optimizing for the playoffs, the free-agent pool, all league rules, and player injury probabilities.
Jake Beham, Director of Marketing and Business Development, explains the decision to make Trade Judge free stating, "We have two motivations for making Trade Judge free. First, ASL highly values its relationship with league providers. We want to find ways to work together that enhance the overall fantasy sports experience. Trading brings an exciting element to fantasy sports, but in some leagues, fantasy players can become frustrated or even stop trading because the trade dispute process takes too long or is not always objective. We hope Trade Judge is adopted as a quick and fair way to resolve trade disputes and in doing so, improve the experience for fantasy players. Secondly, ASL has a unique marketing problem. Since ASL's primary revenue generator, The Machine, is effective at helping fantasy players win, team managers are naturally not recommending it to their opponents. We promote our pay-for products from within Trade Judge, so we also hope to overcome the problem of a lack of word-of-mouth marketing and create a cross-league awareness of our products."
In the past, trade dispute resolution has relied on either a voting process by league members or an objective third party to render a decision. Within a league, personal biases can factor into the decision making process. If two teams make a great trade that helps both teams' probability of winning, it is not in anyone else's best interest to allow the trade, thus other team owners cannot always be relied on to make fair judgments. Using a third party to make decisions can be more objective, but is time-consuming and teams that are trying to trade need a decision in a timely manner due to critical free-agent and lineup decisions. The question will be, is Trade Judge really ready to be an undisputed trade resolution system?
Leonard LaPadula, CEO and founder, gives the thumbs up explaining, "The math inside Trade Judge has been a work-in-progress for the last two years. The 2012 version took twenty minutes to run and taught us a lot about the true challenges of trade dispute resolution. We have made a lot of improvements since then and have a great deal of confidence of the quality of player projections. Trade Judge is even able to resolve disputes in dynasty leagues using 3-year player projections. So this year, I am confident Trade Judge is finally ready for maximum exposure and am hopeful for broad adoption."
Trade Judge is not the only free product available to fantasy players. Rate My Team is also offered free as a way to introduce fantasy players to the power of The Machine's mathematics.
ASL has been selling team guidance products through CBSSports.com App Central since 2012 and has seven products available for purchase currently.